Newscaster Kofi Appiah Joins Boss FM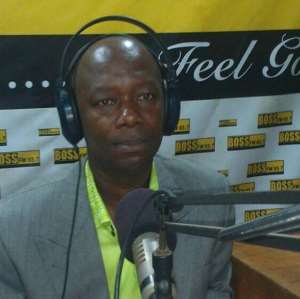 Kumasi-Based Veteran broadcaster Kofi Appiah, News anchor at Metro Fm, has quit the station after one year of working with the Ejisu-Krapa based radio station.
Interestingly, his exit is said to have come as no surprise to many of his colleagues.
Before joining Metro Fm about a year ago, Mr. Kofi Appiah worked with Fox fm in Kumasi for a decade and half. He has a unique baritone voice pleasant to the ears, an excellent sense of humour and very fluent in handling the Twi and English languages.
Kofi Appiah has currently moved to Adum Based Radio Station Boss 93.7 fm, he was unveiled to the media and listeners on 5th October, 2015.
Mr. Kofi Appiah has won best Akan News caster and he is now in Boss fm with a wealth of experience.
He is now the Managing Editor of Boss –Fm .
Oheneba Nana Asiedu, The New Programs Manager and Morning Show Host at the station revealed this to SeanCitygh.com and noted that it was a strategy of the station to get good personalities to make the station listener friendly.
According to him, the management is committed in giving its cherished listeners the best in everything and hence its decision to bring on board able presenters, newscasters and radio personalities to enrich the taste of radio.
He promised to introduce new innovations as well as variety of programs including children's programs to augment others which seem exciting to listeners of the station.
Below is the Program line- up of Boss 93.7fm
Boss News
6-6:30am
12-12:30
5:30-6:30pm
Sports time
6:30-7:30am
12:30-3:00pm
Monday- Friday
Boss Sports is Anchored by Daniel Esuman , Richard Smith Donkor and Awal Mohammed who's a foreign news presenter .
Boss Entertainment
Boss Countdown (Entertainment)
Host: Eric Adu(Porporshew)
Time:10:00-12:00 Saturdays
Morning Show
Good Morning Boss
Monday-Friday 7:30-10:15am
Hosted by Oheneba Nana Asiedu
Mondays & Wednesday
Breakthrough Hour
10:00-12:00
Mondays-Fridays
Host: Nana Fianko & Evangelist Akwasi Awuah
Encounter (Political Talk Show)
Mondays- Wednesday's
8pm-10:00pm