A-Jay Nominated For Most Influential Male TV Presenter @ Ghana Tertiary Awards 2015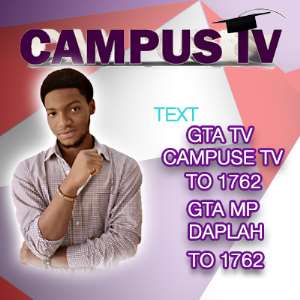 Stanley Daplah popularly known as A-Jay got a nod for his work as host of Jay&U, a segment on the Campus TV show on Amansan Television (ATV) with a nomination in the Most Influential Male TV Presenter category in the 2nd edition of the Ghana Tertiary Awards 2015.
In about twenty categories, Campus TV which airs every Sunday from 5:00pm to 6:00pm and A-Jay,the Jay&U segment host earned a slot each.
The event which is slated for November 6, at the National Theatre is to honour and award young tertiary students who are using their talents and the field they find themselves in to create something positive in the country and to inspire other young tertiary students.
To vote for A-Jay, in the Most Influential Student Male TV Presenter, text GTA MP DAPLAH to short code 1762 on all networks.
The C. E. O of Youth Web Entertainment and organizers of the Ghana Tertiary Awards, Richard Sarpong in an interview said they have spoken to their sponsors who will give out souvenirs to the winners aside the plaque that would be given to them.
Also he disclosed that they are in talks with other organizations to help organize refresher courses for their winners.
"We would not leave them like that as we want them to improve on what they do and to impart their knowledge and skills on the youth and the country at large"