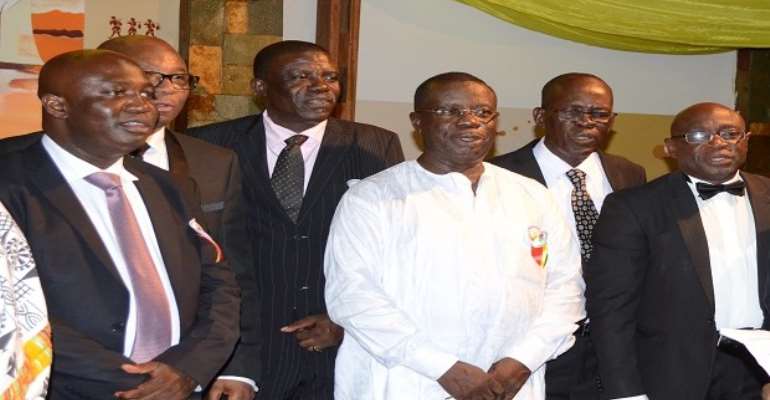 Mr Devine Asiedu (middle) in a group photogrraph after the event
Based on his outstanding achievement in the hospitality industry in Ghana, the Chief Executive Officer (CEO) of Papaye Fast Food, Divine Asiedu, has been honoured by Nobles International Award for being an eminent West African who upholds the virtues of honesty, integrity and accountability at a ceremony held last Friday in Accra.
Divine Asiedu had over many years exhibited exceptional and sterling leadership qualities, professional excellence and exemplary service to mankind.
The event, organised by West Africa Nobles Forum, honoured a number of entrepreneurs in various fields of business with plaques and citation at the awards ceremony.
In an interview with BEATWAVES after receiving the award, Mr Asiedu said, 'I was shocked when I was called to receive an award. I've not succeeded enough to feel that I've made it. I'm still learning and going on and hope that God is kind enough to show me the way.'
He gave an assurance that he would continue with his good work to produce good and quality food to feed millions across the country and beyond.
He expressed his excitement that Papaye Fast Food which was established in 1991 is one of Ghana's leading fast food companies, and has also become a household name in the country.
Mr Asiedu mentioned that Papaye has kept faith with its strategy of preparing fast food using recipes designed by the company, thereby giving Papaye cuisine a unique flavour. In all of its three branches, Papaye fills in about 6,000 orders daily for its customers.
By George Clifford Owusu