'Wo Onane No' not about sex; it's about freedom - Kwamz and Flava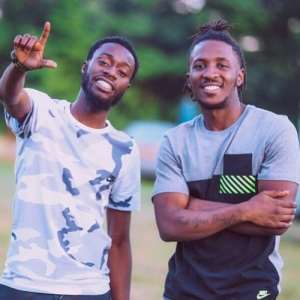 Kelvin Nii Laryea Laryea known as Kwamz and Germain Nana Kwaku Boateng (Flava) say their hit song 'Wo Onane No' aims to free people through dancing.
"Basically I don't feel people are allowed to be free so it is just like 'charley let us be free'. In the video we got arrested – should I say strapped up – so we are just releasing ourselves. We end up at a party and then we start dancing. So just be free and lift up your leg" Kwamz explained.
According to the Britain-based Ghanaian music duo, contrary to what many people think, 'Wo Onane No' – which translates literally as 'raise up your leg' in the local Ga language – does not have any sexual connotation.
The two artistes disclosed this during a conversation with MzGee on Hitz FM.
The song was released in Ghana in January this year after receiving great response in London where it was first debuted.
Flava recounts the making of the song:
"When the beat came it was fire. So we just sat there for about ten minutes, just soaking in the beat and I just said, yo kev! (Kwamz) whatever you are gonna say just make it easy. I really want you to do something in Ga, I can't speak Ga. I'm Ashanti and within 5 minutes he came up with Wo Onane No and I said what is that mean, lift your leg innit? So it was more like a dance as well, the foundation of it was from dancing".
The duo – who are billed to perform on Saturday at the Joy FM Old Skuulz Reunion – say they have admired and adored the group R2Bees over the years. They say R2Bees are their inspiration and hope to work to with them soon.
"We have been cool with R2Bees for about 3 years. We first met them when they came to London so when we came in January we linked up with them", Flava said.
Kwamz and Flava say their visit o Ghana is to express gratitude to their fans for the enormous support they have given them though they do know them.
Touching on the movie industry, Kwamz and Flava, say the standards have fallen.
"The standards are not really international no more. Everything is YouTube. The last Ghanaian movie I probably liked was 'Beyonce' and that was a long time ago. I'm sure Ghanaian movies are doing well but I'm not really following up", Kwamz said.
He mentioned Van Vicker and Yvonne Nelson as his favourite characters.
Is one of them thinking of hooking up with Yvonne?
"Yvonne Nelson is alright but she is a bit…you know. I heard her name like in 3 tracks so there must be something about her. She is 'guy', flexing, I watch her Instagram as well and she enjoys life but she is not my type", said Kwamz.