Mahama Supports Rocky Dawuni's Sixth Album Launch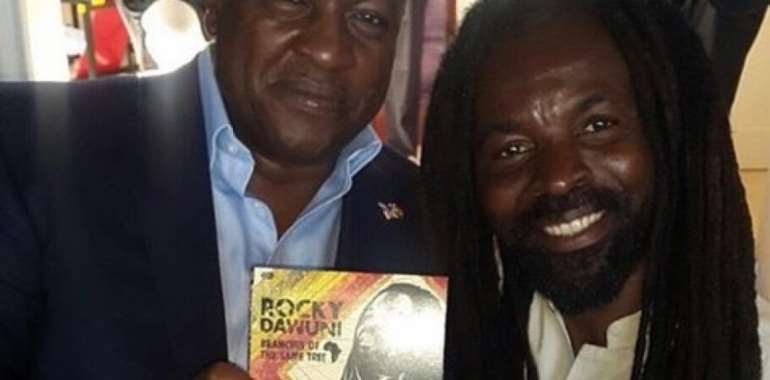 President John Mahama joined Ghana's international Reggae artiste Rocky Dawuni in California, US, to launch his sixth album 'Branches of the same tree'.
The President threw his weight behind the artiste by posing with him holding a copy of the album for photographs.
An act Rocky saw as a support from the President and he took to Instagram to express his excitement
Inspired by the soulful beats of Afrobeat legend Fela Kuti, the positive messages and deep grooves of Bob Marley and the infectious, sing-along anthems of Michael Franti, K'naan and Matisyahu, Rocky Dawuni's songs blend elements of reggae, Afrobeat and global pop into an enticing new sound.
The songs on Branches of the Same Tree also reflect influences of New Orleans funk, Brazilian samba, even the lilting sounds of Hawaiian ukulele, seamlessly integrated into a unique and approachable style.
The album features appearances by an all-star lineup of guest musicians, including veterans from Michael Franti and Spearhead, Steel Pulse, Ben Harper and The Innocent Criminals and Ziggy Marley.
Already a superstar in West Africa with a devoted international fan base, Branches of the Same Tree promises to bring Rocky's music to even wider audiences around the world.