GHAMRO Educates Radio Station Owners On Licensing And Royalties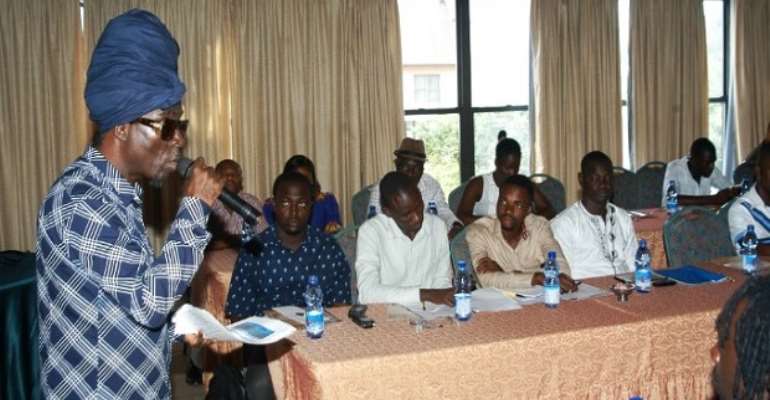 The Ghana Music Rights Organisation (GHAMRO), in collaboration with the Copyright Office, has organised a sensitisation workshop for radio station owners and broadcasters at the Air Port West Hotel in Accra.
The workshop was aimed at educating the station owners and broadcasters on licensing and royalties in remunerating rights owners to enhance the development of the music industry.
Chairman of GHAMRO, Kojo Antwi, addressing participants at a workshop on the role of broadcasting in the development of the Ghana music industry, called for a cordial atmosphere between rights owners and users of musical works to help Ghanaian music to thrive both locally and internationally.
Kojo Antwi said the radio stations that use the works of composers in running their commercial ventures have a responsibility of ensuring they are licensed and in effect pay royalties to remunerate the hard work of the owners of the rights.
'The media who are our partners in development have a responsibility to create an atmosphere for composers to be paid what they are due in order to be able to go into the studio to create good music,' the music icon added.
The chairman also expressed concerns over the current direction of Ghana music and charged all stakeholders to play their vital roles to ensuring a formidable industry which would create employment for the teeming youth and contribute to the gross domestic product (GDP) of the country.
A law lecturer and a resource person, Dr Poku Adusei, took the participants through the scope of legislation guiding copyright in the country.
He said the GHAMRO was established under Section 49 of the Copyright Law, Act 690 of 2005 and regulated under L.I. 1962 of 2010 to collect and distribute royalties on behalf of authors, composers and other right owners.
He stressed that there would not be an excuse for anyone who falls afoul of the laws, adding that the users of the intellectual properties of composers are obliged under the 1992 Constitution to remunerate them (composers) to cushion them.
According to him, the incessant playing of music on radio, television among other public places does motivate music lovers to purchase CDs or cassette, causing the composers to incur cost of production.
A legal practitioner, Garry Nimako Marfo, the administrator of GHAMRO, Abraham Adjetey, and Jonathan Cudjoe, in-charge of licensing, also took turns to address the forum.