Ghanaians Are Happy People – Meiway Thanks All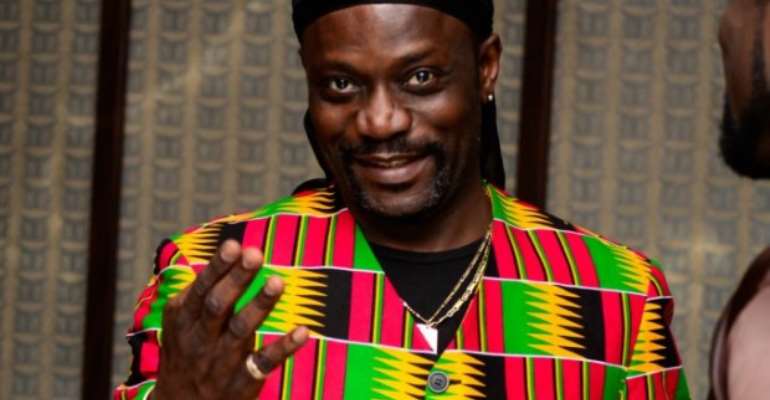 Legendary African musician Freddy Meiway lived up to expectations and thrilled patrons as the headline act of the highly anticipated 2015 edition of the Kasapreko African Legends Night concert held in Accra last Saturday.
The undisputed pioneer of Zoblazo made his first performance on the African Legends Night stage remarkable with a wonderful stagecraft, passion and unstoppable energy with his band. Meiway put his Ghanaian fans in excited anticipation of his next performance after the very amazing and dynamic skills he displayed with his 'lolo' dancers.
The night was indeed melodic, memorable, dramatic and full of celebration as both the young and the old took to the dance floor rocking to soothing and hot tunes from Trigmatic, Dela Hayes, Gyedu Blay Ambulley and Amakye Dede.
Commenting on the show in an exclusive interview, Freddy Meiway said 'this happens to be my first time in Ghana that I have had the opportunity of playing with my full band, making my performance the best ever in Ghana. Ghanaians are simply wonderful and happy people and I enjoyed every minute on the dance floor with them. They kept my enthusiasm high and I did not even want to stop.'
'I thank Global Media Alliance, Kasapreko Company Limited and all the sponsors for the opportunity to perform in Ghana, and for their extraordinary hospitality. Also, I would like to congratulate my fellow artistes from Ghana for putting up spectacular performances to make the night an unforgettable one. I hope to meet everyone again next time,' he added.
Edwin Amankwah, Director of Global Media Alliance, said: 'I am glad to say that we have delivered just as we promised. We are extremely grateful to Kasapreko, Vodafone, Phoenix Insurance, Stanbic Bank and all our media partners for making this year's edition a memorable one. Patrons should look forward to a bigger surprise come 2016 with African Legends Night.'