Ghana Cooks World's Biggest Pot Of Rice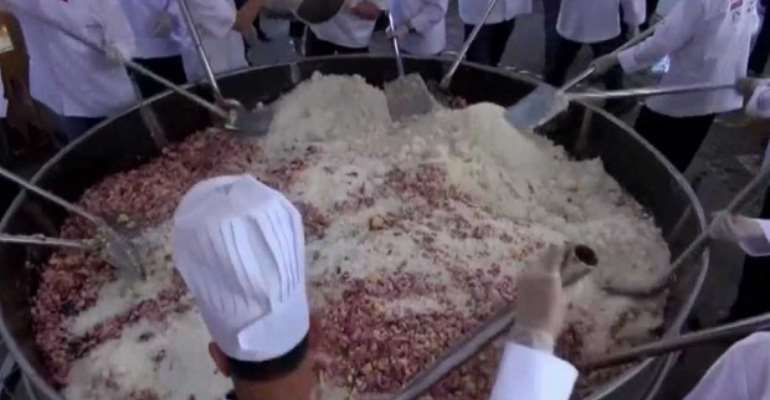 Some Costa Rican Chefs preparing the rice in 2013
All is set for the historic event on Saturday, October 3, when the largest quantity of rice would be prepared at the same time in arguably the biggest cooking pot in the world as Ghana attempts to set a new Guinness World Record.
As at Thursday, two clear days to the date, BBnZ, organisers of the event, said everything was set for the historic cooking event which would feed some 3000 street children and orphans in and around the country's capital city.
Over 3.02 tons of rice will be prepared in one cooking pot on Saturday right at the Independence Square, the event's venue. Documented history indicates that never has such a large quantity of rice been prepared at once.
In 2013, Costa Rica had to prepare just 1.3 tons of rice to be acclaimed by the World Record Academy as the country to set a Guinness World Record of cooking the Largest Fried Rice in one bowl.
When NEWS-ONE visited the Independence Square on Thursday, carpenters and other artisans were busily erecting structures to cordon off the cooking area, serving area, entertainment section, VIP section and also to demarcate a large parking lot.
Saturday's event, officially known as 'Diamond Cement's Largest Buffet', has the tag line 'Dare To Care: Feeding Accra's Street Children'.
Aside serving the rice to the street children, they will also be given learning materials including pens, pencils, exercise books, erasers, toys and other products including drinks and an assortment of confectionaries.
Organisers, BBnZ, have expressed excitement at the idea of setting a world record while using the same event to provide food and care for thousands of children in need.
The company said it had received confirmations from some of the country's finest celebrities and entertainers who have volunteered to help in serving the food to the street children and orphans.
The event will have a continuous side attraction of musical performances, comedy and dance. The event starts at 10 am and is expected to end by 4pm.
Apart from Diamond Cement being the title sponsor, Saturday's historic event has sponsorship and support from DAILY GUIDE, Starr Fm, YFM, Happy Fm, Citi Fm, Labadi Beach Hotel, Bel Aqua, Indomie, Nobel House Chinese Restaurant, Perfect Touch Restaurant, Cake Teknics, Britanica Biscuits, Ever Pack, 5-Star Fruit Juice, Gino, Chrisaach, West African Décor Tiles and several others.