Ghana Attempts Guinness World Record …Cooks Biggest Ever Bowl Of Rice On Saturday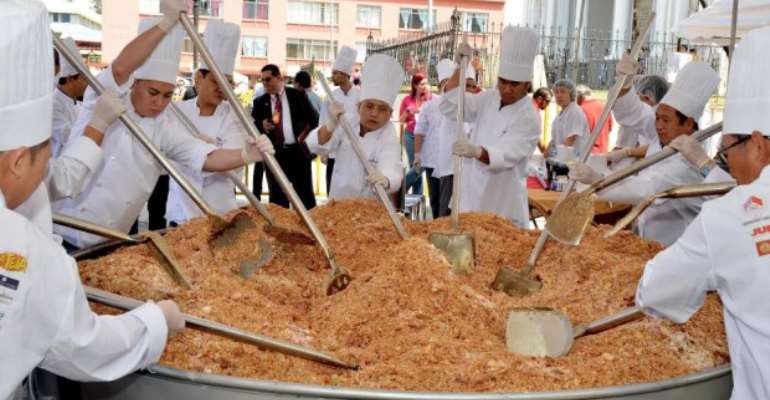 Largest Fried Rice, Costa Rica 2013
On Saturday October 3, Ghana would attempt to set a new Guinness World Record by becoming the country where the largest quantity of rice was prepared in one bowl at the same time.
In 2013, Costa Rica grabbed that title when some 52 chefs and 20 assistants came together in that country to prepare the largest fried rice in one bowl, according to the World Record Academy.
Costa Rica earned the title by preparing a 1.3-ton bowl of fried rice. But on Saturday Ghana would attempt to break that record by preparing 3.0 tons of rice in one bowl right at the Independence Square in the country's capital, Accra.
The food would be shared to an estimated 3,000 street children in Accra and its environs.
Several of the country's celebrities and showbiz personalities have already signed as volunteers to help in serving the food to the street children and joining them to have fun and other entertainment activities on the day.
Saturday's event, dubbed 'Diamond Cement's Largest Buffet', has the tagline 'Dare To Care: Feeding Accra's Street Children' and is organised by BBnZ.
A BBnZ official said the company could have prided itself in setting a world record in something else but it was touched by the plight of the about 90,000 street children in Accra alone.
The official expressed excitement at the idea of setting a world record while touching humanity, especially children, in a very meaningful way.
'We are also sharing to the children learning materials including pens, pencils, exercise books, erasers, toys and other products including drinks and confectionaries,' he added and expressed hope that it would become an annual event.
Saturday's event starts from 10 to 4 pm and will be laced with music and dance performances.