Drama Over Micah Ganja Trial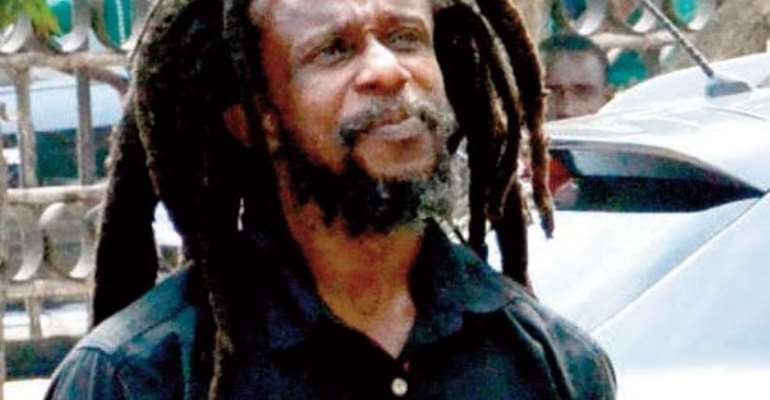 Ekow Micah
The trial of popular reggae musician, Lester Ekow Micah, 43, yesterday took a dramatic turn when he raised his hands in open court in an attempt to address the court.
Ekow said he had something he directly wanted to tell the court but the trial judge, Aboagye Tandoh, said he had to do so through his lawyer, John David Merson.
Micah said that he had not seen his lawyer since the last adjournment.
The court nonetheless ordered him to channel his complaints through his lawyer and that he will also be given the opportunity to speak in the court in respect of the case.
The case was, however, stood down to enable the judge attend a certain meeting with the hope to hear the case again later in the day.
The judge could not return to continue hearing of the case until 1:10pm when the case was finally adjourned until Friday, September 25, 2015.
At the last hearing, the prosecution had hinted that the laboratory report on the dried leaves reportedly found at the residence of the accused would be ready.
The possible release of the report follows the tendering of the substance in the court by D/Cprl Richmond Ayayi during his evidence last week.
Charged with possession of narcotic drugs, Micah is said to have told the Police that he smoked the alleged dried leaves in order to stimulate him in his music career.
Micah has, however, denied the offence.
The facts of the case are that Micah is a resident of Ogbojo near Kokrobitey in Accra. On August 4 this year, Micah was arrested by the Airport Police over an alleged extortion case currently under investigation.
The following day, at about 11:30 hours, the Police and Micah who wears dreadlocks visited his (Micah's) house to conduct a search and in the process, a quantity of dried leaves suspected to be Indian hemp was found concealed in Micah's backpack.
The facts said that the popular reggae musician and President of the Music Council of Ghana admitted ownership of the exhibit and told the police that he smoked the substance to stimulate him in his music career.
[email protected]
By Jeffrey De-Graft Johnson