Six down, six remain in MTN Hitmaker 4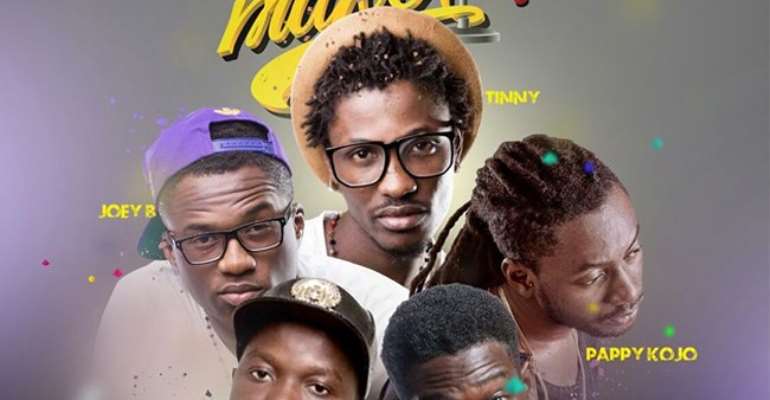 With a few weeks to the end of the MTN hitmaker 4 reality show, the stakes are very high with beatmakers and contestants competing for honours.
The winning beatmaker takes home a cool GHc10,000 and all the bragging rights of being the beatmaker for the winner of the most original talent hunt in Ghana.
The winning contestant on the other hand takes home a whopping GHc100,000 in cash and prizes, this makes MTN Hitmaker the most rewarding reality show in Ghana.
This week, it was all about the judges as they picked the songs for the contestants. After having been with the contestants for six weeks they decided to move the contestants out of their comfort zones in order for them to show their true Hitmaker quality.
The contestants representing their beatmakers Magnom, Kaywa and Richie stepped onto the Hitmaker stage, stepped out of their comfort zones and justified why they remained in the competition.
The three teams were ready; each one had a point to prove. They had to make their beatmakers and fans proud of them, but it was Team Magnom that seemed to have a good start as the remaining two of the contestants Yaw and CJ were all break out nominees.
But team Kaywa won two weeks in a row with Kidi winning the breakout nominee, so team Kaywa had their noses in front. This was short-lived as Efo a member of the team was evicted bringing the number in each team to two.
The competition was on!! The remaining six contestants had to outperform each other in order to make it to the final event slated for 30th September, 2015.
Team Richie had more to prove than the others because both contestants were in the bottom three, having escaped eviction narrowly twice in a row they had to really justify their inclusion and they did.
Oneday was the first to step out of his comfort zone, performing Snoop Dog's "Wiggle" he had a lot of fun on stage. Though he was able to excite the crowd the judges didn't really enjoy his performance. Akwesi Aboagye did not enjoy the performance, Eazzy also didn't enjoy it but loved his energy and Okyeame Kwame expected more from him.
Then came gunshot's turn to come do his thing, performing Gyptian's "Hold yuh", gunshot was extra confident, energetic and dazzled the audience with his infectious performance.
Akwesi Aboagye loved the huskiness of the voice, Eazzy loved how he switched his voice from the intro to the main song and Okyeame Kwame gave him an average mark.
Team Kaywa was well represented by the remaining two contestants Abena and Kidi. Abena performed Katy Perry's "Roar" and she did roar like a lioness. She roared in a voice that can only be described as spectacular, she turned the auditorium upside down but in a good way.
Her voice was strong, clear and her vocal range was amazing. Okyeame Kwame loved the fact that she looked the part and sang well, Akwesi Aboagye loved the performance but challenged her to do more and Eazzy said it was her best performance.
Kaywa would be a very happy man because the other member of the team, Kidi was excellent on stage. Performing the sound track to the hit movie 50 shades of Grey, "Earned it", he proved that he really earned his break out winner prize.
He was extra confident, flirted with the song and sang with passion. His vocal range was on point, and his voice quality was exceptional. All the judges loved his performance with Akwesi Aboagye saying that loved the fact that he took a challenging song and made it sound easy.
The Magnom Team started off on a happy note. Yaw performed Pharrell William's "Happy" and he performed just like a happy person. He delivered a lively performance that rubbed off the audience but sadly Akwesi Aboagye did not catch the happy fever but Eazzy and Okyeame Kwame did as they loved Yaw's performance, Okyeame Kwame even went as far as saying that Yaw sang better than Pharrell.
Interesting, CJ showed us a slow side of him but still maintained his confidence and energetic side. Performing Drake's "Worst Behavior", CJ managed to bring his good side to this worst behavior performance.
The judges had a different view though, Eazzy wasn't happy with the performance and expected him to do the radio edit of the song instead of his own raps, Akwesi Aboagye was also not happy and Okyeame Kwame said the lyrics of his own rap did not connect with the chorus of the song.
The final day is just a few weeks away, ensure your favorite gets to the finals by texting his or her name to MTN short code 1762 on MTN and other networks. Whilst you vote, don't forget to be bold, be chic, be legendary, be daring, be limitless and be all the shades of you with MTN pulse. Dial *567# to join MTN pulse or visit www.pulse.mtn.com.gh to discover more.
MTN Hitmaker 4 is produced by Charterhouse, supported by Oak Plaza Hotel and Huawei and an MTN initiative.