Music: Klymax Ft. iMike – No Think Am [@Maximum_KlymaX]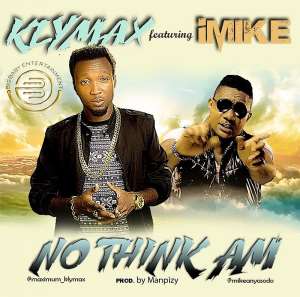 Brand New Single from new kid on the block, Klymax a.k.a Maximum Klymax. The afro-pop/dancehall artist features 2012 Project fame winner and RnB sensation, iMike a.k.a Mike Anyasodo on this track. Produced by super talented young producer, Manpizy.
Download & enjoy. 2015. Big Baby Entertainment.
Connect with Klymax on twitter @Maximum_KlymaX. Listen and Enjoy!
LISTEN TO No Think Am Mynotjustok
https://my.notjustok.com/track/34589/klymax-ft-imike-no-think-am
DOWNLOAD No Think Am Mynotjustok
https://my.notjustok.com/track/download/id/34589
LISTEN TO No Think Am Hulkshare
http://old.hulkshare.com/zq4ylt22ho1s
DOWNLOAD No Think Am Hulkshare
http://old.hulkshare.com/dl/zq4ylt22ho1s/Klymax_ft.%20imike%20-%20no%20think%20am?d=1