Nana Yaa To Debut New Single 'E Go Be' - September 16th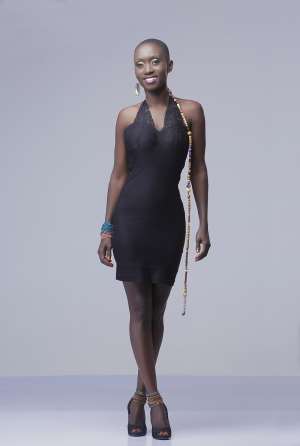 What is your favorite Kojo Antwi song, mine is 'Emirika', what makes me love the song is the silky female voice that responses to Kojo Antwi's calling from verse to chorus.
That silky voice is the daughter of Hi-life legend Pat Thomas called Yaa the Voice'. Many know her as Nana Yaa and on the 16th of September Tigo Music debuts the versatile singer and composer's new single titled 'E go Be' on Deezer.
"Nana Yaa" is described by her team as; Imagine a butterfly trapped in its cocoon, using all its might to break free, its wings forming radiant colors caused by the sheer will to live.
Use that same imagination for a young woman breaking free from the ravages of war, deprivation and abandonment, but instead of wings, she emerges with a voice so distinct it grabs at your heartstrings; and here you have the story of Nana Yaa: a woman of life, love and compassion."
Nana Yaa's voice and singing prowess is an inheritance. She, Nana Yaa, comes from three generations of world class musicians: her grandfather, Dick Everett, her mother Lola Everett and her father, legendary high-life musician, Pat Thomas are the blessings that forms her strong feminine voice and music personality.
In talking about her new single, Nana Yaa told Tigomusic.com.gh that as a composer she puts herself in the shoes of many including her fans. There are a lot of people who need a little motivation to be able to get on with their daily lives hence the song 'E go Be'.
She contended: 'E go Be' is not your usual dance song that I want fans to prepare for. Not to give too much away but the song will make you sit down to ask yourself some really deep questions.
In this world, the only thing we can do for one another is to motivate ourselves that one day 'E go be' so as hustlers, dream chasers and achievers we cannot help but fight for success, she stressed.
The new single from Nana Yaa called 'E go Be' will be exclusively premiered on Tigomusic's Deezer on 16th September.
If you not on Tigo, get onto the network that gives you access to unlimited music by dialing *500*4#, follow steps to subscribe.
Nana Yaa is inspired by the legendary Diana Ross, Miriam Makeba, Aretha Franklyn, Lionel Richie, Osibisa, George Darko to name a few and of course her father Pat Thomas .