Research Work On Ghanaian Music Industry Launched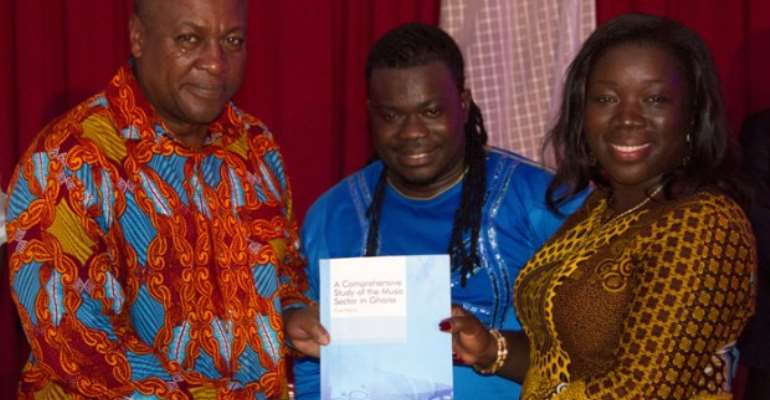 The much-awaited MUSIGA-commissioned KPMG Comprehensive Study of the Ghanaian Music Sector has officially been launched by Elizabeth Ofosu-Adjare, Minister for Tourism, Culture & Creative Arts, during this year's edition of MUSIGA Grand Ball held at the Banquet Hall of the State House last Friday in Accra.
At the launch, the first copy of the book was presented to President John Mahama by Mrs Ofosu-Adjare at the ceremony which attracted a large number of dignitaries.
The 292-page final report (also an abridged version of 44 pages) primarily provides baseline data and assessment of the contribution of the music sector to the economy of Ghana.
In 2012, MUSIGA sought out to collate economic information on the music sector to enable it to prepare a medium-term strategic plan in line with the government of Ghana's medium term plan known as the Ghana Shared Growth and Development Agenda (2010-2013).
In that year's national budget, the government allocated GH¢ 2,000,000 primarily to conduct research, organise Ghana Music Week 2013 and for capacity building of MUSIGA and other music industries organisations. KPMG was, therefore, commissioned by the Union to undertake a comprehensive study into the sector.
'With this report, one would understand and explain the structure and functioning of Ghana's music industry. The report clearly identifies its areas of strength and weakness and would certainly stimulate discussion both within the music industry and between the music industries, government and other interested organisations as to what projects and processes would be most useful in building the Ghanaian music industry,' Daniel S. Adoteye of KPMG said.
The document will also form the framework for the formulation of government policy on the music industry as well as provide the basis for the formulation or amendment to existing legislation on the industry.
According MUSIGA, 10,000 copies of the abridged version will be printed and circulated nationwide within the next three months.
The study was commissioned by MUSIGA, funded by the government of Ghana, with support from World Bank, Vodafone, Ideal Finance, Kasapreko Company Limited and Midland Savings & Loans.