Music Premiere : Against All Odds... Mo'eazy Premieres New Single, Kòjábólè!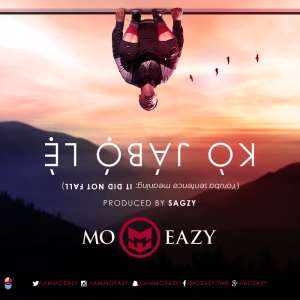 "If you could first write the story of your life in a book and then live it, would you not want to write yourself a good ending?"
​Months after dropping the hit track "​Na We​", featuring Runtown, Afro ​Rap/​Pop hitmaker, Mo'Eazy has released another monster single titled "Kojabole".
Known for other popular songs including Ragabomi, Smile and Kosoro, Mo'Eazy not only reveals himself as a poet but also showcases his lyrical prowess on the new track which connects deeply with fans who encounter challenges in their daily lives.
Mo'Eazy comments, "Kojabole is one track that connects with so many people today who face everyday struggles. No matter how hard it seems, cling to the essence of your dreams and fight back; you are the writer of your destiny."
KoJaBole, is a survivors' mantra. Despite all the devices contrary to progress, the gross suffering and the painful learning curve, KoJaBole represents the victory anthem, that comeback-strong message. In Yoruba Language, Ko Ja Bole means "It Did Not Fall".
He continues, "After complete darkness... there is light! So tell them you did not fall... More importantly, tell yourself that no matter how hard life forces you faced down, you will never hit ground... You will never fall
With a deep sense of connection to every fighter out there, listen to KoJaBole by Mo Eazy here : Download link : bit.ly/kojabole
​