Becca Shares Stage With 16 Other African Artiste In An All-African Song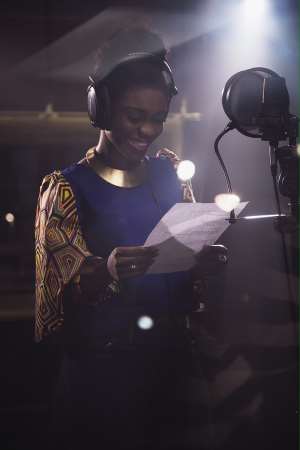 Ghana's adorable singer, Becca, has been selected among 16 other great African singers to record an all-african song titled "Tell Everybody".
The song ""Tell Everybody" aims at inspiring young people to know their rights encompassed in the 17 goals and hold their governments accountable to deliver on their promises.
The global initiative is to project the UN's Sustainable Development Goals (SDGs) to everyone on the planet and to ensure the project is youth based various great African talents were selected to write their own lyrics in recording the song.
These artiste of which "African Woman" singer , Becca is part, include award-winning producers Cobhams Asuquo (Nigeria), David KING DAVID Muthami (Kenya) and Ellputo (Mozambique) have collaborated on a track that was recorded by Mafikizolo (South Africa), Diamond (Tanzania) in Johannesburg's Jazzworx studio. Ghana's Sarkodie, Sauti Sol (Kenya), Toofan (Togo), Yemi Alade and Wizkid (Nigeria) put their verses down on the track in studios in Nairobi, Lome, Lagos and London.
The song, "Tell Everybody" which is Africa's first crowd-sourced song was recorded in various studios in Nairobi, Lome, Lagos and London by some biggest names in Africa. The song which captures the voice of Africa's youth in French and English was crowd-sourced via a competition dubbed "Add Your Voice/Add Your Verse", was run by Every1Mobile for two weeks.
In all, a total of 5,712 people from 24 African countries submitted lyrics via their mobile phone to support the song.
In an interview with Becca, she expressed excitement at being part of the project and expressed optimism that the project would achieve the intended goal. Becca also could not hide her joy at having to share the same stage with all these great African singers.
Becca, who recorded her winning lyrics, also noted that "There is no better way to deliver the Global Goals message than through music. This song, I believe, is going to be that breakthrough."
The SDGs, now popularly known as the Global Goals, will be adopted by 193 world leaders in the United Nations in New York on 25 September. The goals represent an action plan for the next 15 years and aim to end extreme poverty, fight inequality and injustice and tackle climate change for everyone by 2030.