I Can't Tell If I'm Going To Retain My Seat - Obour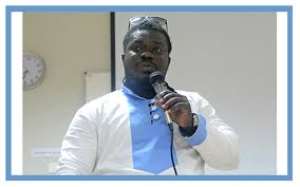 The countdown to the next musiga presidential elections is just around the corner with Appietus and Gyedu Blay Ambulley all making their respective intentions to contest Obour known
The two of them on different platforms have been very optimistic of overthrowing Obour because they believe he has woefully failed the union.
Dj Murphy lee of Sunyani based Metro fm went up-closed with Obour via telephone to ascertain his chances of retaining his seat.
"I don't think my philosophy would change when am retained .Because i'm going to reload the good things i have been doing..that is accountable administration, Job opportunities for musicians,music education & pushing for the right policies. These are the same things i shall continue doing when i retain the seat",He told Murphy
But during your speech at this year's Vgma,you sounded as if you wouldn't retain your seat .Why?... are you not going to retain your seat? Murphy again asked
"oh!! No!! Even if i'm going to win i wouldn't know because am not the one going to vote.i was only reminding the delegates that they have the power to retain me.I would've loved to retain my seat but for now i can't tell if i'm going to be re-elected or not", Obour revealed to Murphy.
Obour finally said on the 4th September,2015, this year's biggest musiga event,THE MUSIGA GRAND BALL shall take place at the banquet hall of the state house.
The event which is aimed at bringing Society's influential people together for development and entertainment shall see dignitaries like President Mahama and ex president J.A Kuffour chairing the function..