Kyeiwaa's Rival Speaks Out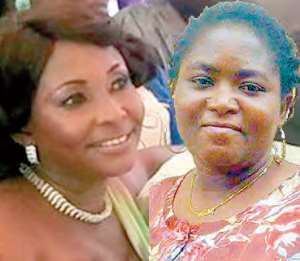 Kyeiwaa and Florence Kyei
Florence Kyei, whose husband Daniel Osei, also known as  Akwasi Bronya, got married to Kumasi-based popular actress Rose Mensah aka Kyeiwaa at the weekend, has told DAILY GUIDE that she still loves her husband and will not divorce him.
She told DAILY GUIDE in a short interview after the couple had gone to their Suame shop yesterday, 'I have been married to him for the past 20 years with two children, all in JHS. I have nothing to say now. I have forgiven him and looking up to God. He is still my husband and I am still his wife.'
The soft-spoken woman disclosed that the husband, who was neatly dressed on Sunday morning, August 30, informed her that he was attending a friend's engagement, adding that she was shocked when she was informed that Akwasi Bronya had married another woman.
'I was shocked because he told me he was attending a friend's engagement ceremony, only to be told that my husband had gone to marry another woman with pictures of him wearing a different dress and the woman.
'The dress he wore that day from home to the supposed friend's engagement was different from the one he wore at the engagement ceremony. He returned home the same day in the same dress he left home with,' Kyeiwaa's rival stated.
Florence Kyei added that her husband, who is now also married to the Kumawood actress, returned to his matrimonial home that very Sunday, spent the night with her and pretended nothing had happened.
She, however, said if the husband insists on marrying two women, 'I will still marry him and if he thinks he has what it takes to marry two women, I will leave him to his fate. I will not divorce him.'
Kyeiwaa's rival hinted that her family had advised her to calm down since a meeting had already been arranged with her husband to find a lasting solution to the problem.
Mr Bronya over the weekend married ace actress Kyeiwaa under contentious circumstances that got several tongues wagging across the country when the news broke over her marriage.
Barely 24 hours after the event, the marriage came under criticisms as it emerged that the man is already married and has two children.
"When he came home he apologised to me, saying that it was a movie they shot and that he least expected that it would turn out this way. That is what he told me. I believed him because when one gets married, that same day the couple will spend some time together but in the case of my husband, he came home and we both slept together till the next day,' Florence indicated.
DAILY GUIDE gathered that a section of the public has condemned Kyeiwaa for her move and also accused her of being a husband snatcher.