Lords Of The Street Dance Hits Accra On August 29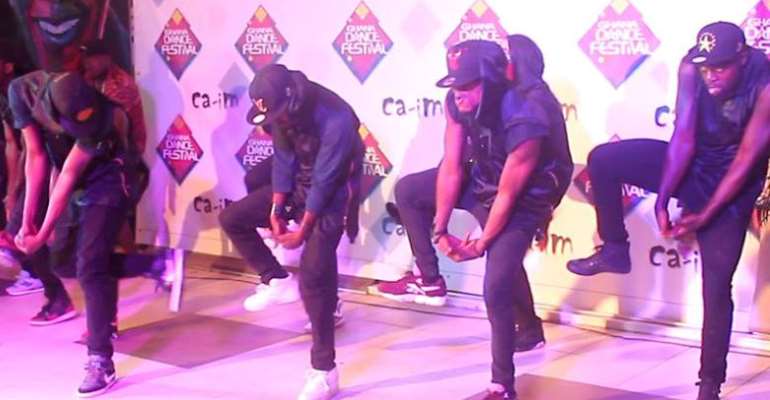 The excitement in the maiden edition of the annual Ghana Dance Festival (GDF) will be elevated to the next level when the event dubbed 'Lords of Street Dance' takes Saturday, August 29, 2015.
This forms part of the activities earmarked for the 3 month-long fiesta and will see outstanding street dance groups in the country showcase their talent and communicate to the world why they are the 'Lords of Street Dance' and can compete on every stage around the globe.
On the said day, the program will start at 7.00 pm and will be staged in front of the Osu Oxford Street Mall, Accra. Thus, street dance will be taken to where it belongs - the streets.
There are over twenty (20) of the nation's finest dance groups ready to exhibit their talent during the night. These includes some of the best seen on TV and winners of competitions such as 4 Bent, Heroes, Kyses, Foot Print, New Geez, PNA, Aces, Militantz and many more.
Also to make special appearance are the casts of Ghana's first street dance movie, "14:32." More so, winners of the Malta Guinness Street Dance season 5, Heroes will for the first time premier their dance video produced in South Africa.
Given that the best in the street dance category are being featured, it is expected that breath-taking moves in azonto, alkaida and more would be brought to light.
Already, the various groups have started bragging. Even though it is not a battle, most dance crews intend to competitively make a strong statement about their skill and talent.
Which street dance group will be crowned as the Lord of Street Dance? Make a date with the team as we find out.
From the organisers, CA-IM, this event will serve as official maiden edition of series of street dance events. Therefore, all dancers are urged to contact CA-IM for subsequent competitive programs.
For updates, please join our social media pages: Facebook.com/GhanaDanceFest, Twitter.com/GhanaDanceFest, Ghana Dance Festival on YouTube and with the hashtags #GhanaDanceFestival #MoveToTheBeat. For more information call 0244-611 808, 0242-948 455 or 020-461 1180.