Lydia Forson to Prez Mahama: I'm heartbroken I'm not your favourite actress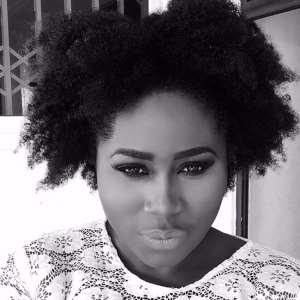 Ghanaian actress Lydia Forson is heartbroken. She is very bitter that President Mahama did not add her to his list of favourite actors in the country.
In her usual sarcastic self, the actress says she is heartbroken to the point that it is very difficult for to sleep or even eat.
John Mahama during an interview on Uniiq FM last Wednesday, as part of activities to mark World Youth Day, revealed that he is an avid fan of the Ghanaian entertainment industry.
He went ahead to reveal some of his favourites in the Ghanaian music and movie industries.
The president mentioned John Dumelo, Lil Win, Agya Koo, Emilia Brobbey, Kyeiwaa, Jackie Appiah, as his favourite actors and actresses. Conspicuously missing were Yvonne Nelson and Lydia Forson.
The two actresses publicly expressed their displeasure at the way the president is handling the affairs of the country, particularly the worsening power crisis – Dumsor.
The President's reference to John Dumelo as his favourite didn't please Yvonne Nelson , who championed the May 16 #dumsormuststop vigil in Accra.
Lydia Forson in a letter - titled Mr. President, I'm HEARTBROKEN - posted on her blog said while the president has broken her heart, she is hopeful someone will see her as his favourite.
Read her letter below:
I'm very hurt that I didn't make it on President Mahama's list. I'm heartbroken even.
Regardless of our personal issues I still watch and enjoy him on TV when he comes on.
Why, why? why?
I can't eat, sleep or even manage to drag myself out of bed because of this.
I don't wish this kind of heartbreak on anyone.
I'm even losing weight over it….ok that's a lie, my butts not going anywhere.
But I've never felt so rejected.
Anyway, it's fine I know my broken heart will be alright.
One day someone will come along and tell me I'm their favourite actress…
#missforson #jokes