One Man Movie – Prince David Takes A Risk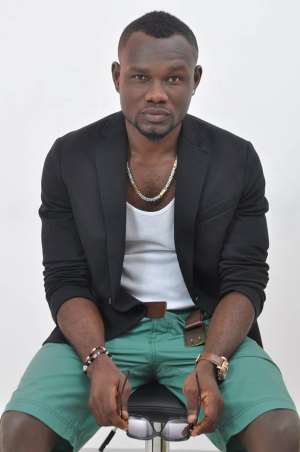 "The movie 'Last Night' will forever remain the most memorable movie I ever shot because is the first ever one cast movie in Africa and Ghana. I know one cast movies have been shot in Hollywood, America but I have not seen anything like this in Africa , so, I think it is real and will forever remain in the minds of Ghanaians - that once upon a time a Ghanaian actor shot a one cast movie," Prince David Osei said of his role in the new movie.
According to the versatile actor, it wasn't easy shooing the movie as he started planning the shoot two years ago with Ghanaian director, Koby Rana, but along the line, he had to start afresh with Nigerian popular award-winning director, Andy Boyo.
He explained to Razz Newspaper Reporter Mustapha Inusah that, two years ago when he wanted to do something different and memorable , he and Koby started and they initially thought it was going to be easy shooting,but along the line, they realized it was not easy executing it especially with the logistics involved.
As to why he did not use Koby Rana when he was fully ready, Prince explained that, when he was ready Koby Rana was busy, but he supported with ideas and once in a while, he (Koby) made a visit to the set during shoots.
The new movie, which is expected to hit the big screens very soon, is a psychological thriller about a radio presenter called Bright Mensah, a drug addict married with a son. He's a dodgy guy who also deals in drug,s but uses his radio program, 'Truth and Consequence', as a front.
He's not who he really claims to be. After his normal radio session, he is on his way home when one of his numerous girlfriends call him to pass over for a quickie.His pregnant wife is kidnapped, same time his girlfriend is locked up in police custody, whilst the mum gets a heart seizure same time.
The movie directed by Andy Boyo was shot with crew from South Africa, Nigeria and Ghana. 'Last Night ' will soon be released from the stables of the actor's PDO Production.
The movie is obviously re-launching Prince David's career into different areas of the movie industry and catapults him to extreme heights.