Playbak Magazine USA Based African Magazine Interview With Samini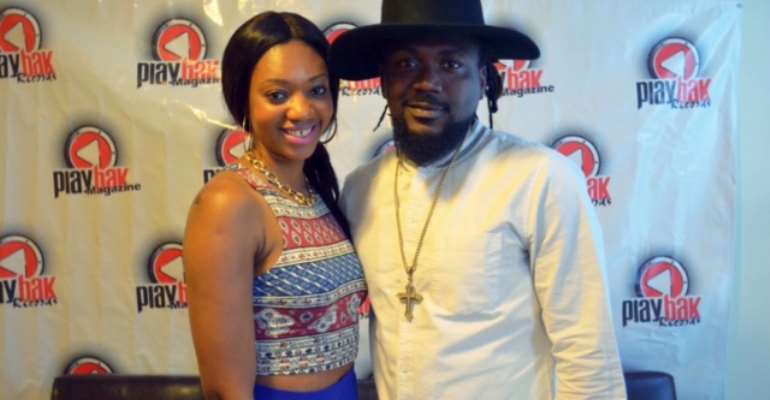 Ghanaian reggae and dancehall recording artist Samini interviews with Playbak Magazine USA based African Entertainment Magazine. Hosted by Giselle "Gigi" Sayon.
What inspired you to sing reggae, dancehall, and hi-life music?
As an artist growing up, you are exposed to a lot of things around you. That's the beauty of art. You pick up on a lot of things and you transform them into art forms for people to feel what you gather from the things around you. I was exposed to a lot of reggae music from my elder brothers and cousins so while growing up I heard a lot of that kind of music before I could even write my own music. That also influenced my composition. The fact that I am from Africa and should stand out as an African artist gave me a highlight. Regardless of where you find me you would find that element of "Ghanaians" inside me so that you can trace where I come from.
Who influences your music and why? What's the real meaning behind your music?
I call my music Samini Music, so whatever that inspires me I write it. I have seen different music forms through my life, my time, my experience over a decade in the music industry and as an artist. I have always found a way to be able to fit my style some how by not following others and still not swaying away from what others fall for. I try not to fall away from what my fans love and give them something unique about me and that's what's brought me here.
So far, you've released 4 successful albums and one of your hottest singles that brought you recognition was the song "Linda". What inspired you to write that song?
I have done a whole lot of features for different artists. I have first known as an artist that features on other artists' music and stuff. So then the challenge had come for me to do an album. So I knew how to do some dancehall. To get these Ghana with you to go out there you have to be something with them, like 95% Twi or local song to get people to like you so they can relate to you and connect with you. I do well with writing English songs because I am not Twi my parents come from the north and I was born in Accra but I speak Twi, which is a very wide spoken language in Ghana. Because it was a wide language spoken with Ghanaians I used that to get to a wider audience.
You termed your brand of music as the "African Dancehall." What does it mean and how is it different from Jamaican dancehall?
With all due respect and credit to Jamaican dancehall, it is my rendition of dancehall coming from African artist who has been inspired by Jamaican artists. You don't have to be in France to perform in French to have people understand you. You can still perform in English and people will still vibe to your music. Jamaican dancehall is based on drums and danceable groves and stuff. The drums come from Africa, it comes from us and they use that in their music so I think we quickly relate to that and see that it is something we have in common.
Do you think music is enjoyed more for the beat or for the lyrics?
With experience I have traveling around the world, music is enjoyed by the beat, because I can travel to Taiwan and perform, the audience there may not understand what the language but they can still dance and groove to the beat. If you slow down and want to play a ballad on the piano, they would have to calm down and follow the melody because they don't know the language you're singing in. That melody then communicates a different message to whoever doesn't understand the language. That's what music does to people. So lyrics is good for those who understand what you're saying. When they don't understand what you're saying it make music more powerful.
You've performed along side artists such as Sean Paul, Shaggy, Akon, Jay Z and many others. How does it feel to share this platform with these artists?
It feels great. It's always been a dream to come up to the main stage. While growing up I've always targeted outside Ghana and did my best to reach there. I wanted to reach to a broader audience and not limit myself to a local area. I've always aimed at an international stage at a young age. I'm here to make a difference.
One of the things I like about you as an artist is that you use your talent to give back to Ghana and its people. Tell us more about your foundation "Samini lights A Million Lives" and other projects.
As an entertainment we have a social responsibility to give back to your community. Yes we can give people music but sometimes they also need that physical help from you. They need it from you like they would need it from a politician, a pastor, a doctors, anyone. So if you can and you have the chance to help, you do it. I've always had this dream growing up as a child about solar energy because where we come from Sunshine is all year round and so learning in class I knew that you could get electricity from the sun. So I could not make sense of why Ghana couldn't get electricity all year round because we suppose to get it from the sun and the sun is right there, you don't pay for it. That brings your mind to solar. When I got in the position to help in the midst of the energy crisis in Ghana, I said to myself that if it is expensive to have solar panels on peoples' houses, why not beat it down to little units of solar lanterns where it can get to rural areas of Ghana with no electricity. At the end of the day, they can be able to turn on a light and not have to plug anything in. For this reason I came up with my project "Samini Lights A Million Lives Foundation." My target is to light 1 million Ghanaian peoples' homes. We have 25 million; so one million is just a small number of people. So if those one million people have one lantern it contributes to a difference in the economy. I am working on another foundation where I give water to rural areas in Ghana. I am still working on that too.