Hip - Life Artiste Qwaachi Set Fror 'Kaayi Koomi' Single In August
.....He Is Set To Release A New Single Titled 'Kaayi Koomi' This August.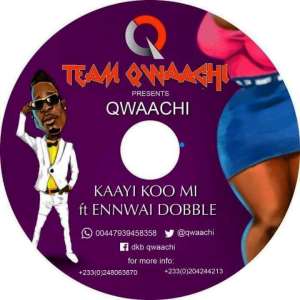 The new jam coming in August is an Afrobeats smash hit which features Ennwai of Dobble fame.
For those of us who know Qwaachi, we reffer to him as 'DKB'. He was the guy with the deep DMX tagged voice and had all the swag a hip life artiste is suppose to have.
He has re-branded to Qwaachi and has switched the rap style to more commercial delivery.
I had the chance to listen to the new single 'Kaayi Koomi' and quickly i noticed the growth of Qwaachi.
One thing i also noticed was the new direction of the rapper; Qwaachi is rapping in the Huasa language and probing further, he intimated the following;
'You know Hausa is also part of the widely spoken languages if i am not wrong. It is in some parts of Nigeria hence reaching a wider market is the target, he noted.
Qwaachi also opined that he knows the style in the new single is different from the other singles he has released but fans will love this new direction when the song comes out.
The rapper chalked success with his single 'OP3 ME SE3 featuring KK Fosu' and he is optimistic about this new one.
When the new single comes out i guarantee a new street anthem and for the boys, we have a term to praise our women who are taking good care of us.
The brand new single from Qwaachi featuring Dobble - 'Kaayi koomi' is coming in August, anticipate.