Jailed 'Stars of the Future' icon Ramzy entertains Mahama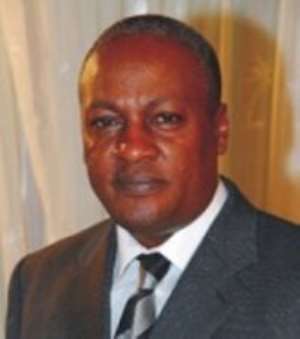 The first runner-up in the first edition of music reality show – Stars of the Future – William Ramzy Amui aka Ramzy, who is serving a jail term at Nsawam, has assured his fans he is doing well.
Ramzy has five more years to gain his freedom. He and eight others pleaded guilty to charges of conspiracy, armed robbery and dishonesty and were jailed 10 years each.
He has been in the Nsawam Prison for the past five years, but has not forgotten his talent, utilising it with the Prisons Reformed Choir. He is one of the lead singers of the choir.
In an interview when President John Mahama visited the facility, an elated Ramzy noted he had gotten accustomed to the environment and was putting his talent to good use.
Ramzy led the Reformed Choir to sing a rendition of Ray Boltz song of 'Thank you for giving to the Lord'. After entertaining the visitors, Mahama applauded Ramzy, saying, 'I am really touched by your song. That was good.'
Ramzy, like the many other inmates could not hide his joy at seeing Mahama, five years after serving his sentence. The reality show icon sang a song he helped compose to thank the President on his historic visit.
According to him, he is putting his talent into good use, despite finding himself in a confined environment. He only managed a smile when asked whether he would turn out a gospel musician or a pastor.
Ramzy like other prisoners is optimistic that the President's consideration of remission of sentencing on good behaviour will affect him.
Ramzy placed second at the maiden edition of 'Stars of the Future' – a music reality show organized by Charterhouse in 2006 and also auditioned for the M-net West Africa Idol contest in 2007, in Nigeria.
He returned to Ghana after he qualified to take part in the singing competition but his dreams of being an idol were dashed when he was arrested in February 2007 just days before he was scheduled to go back to Nigeria.
Comments
comments