Castro's Return -Gyan Still Hopeful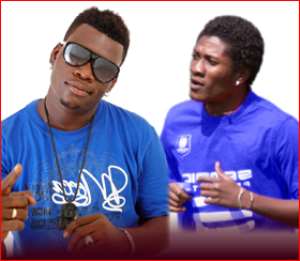 Black Stars Captain Asamoah Gyan has said he is hopeful his missing friend, popular musician Castro, will return, though the latter went missing exactly a year ago—July 6, 2015—and a search for him has yielded no results.
'A year ago…on a Sunday…same weather…we've not been too happy since…but we are hopeful of your return,' Asamoah Gyan, currently out of the country, stated on his official Twitter handle in reference to his missing pal.
'It has been a year of prayer and keeping hopes alive. We still pray for strength and fortitude for the police and all related agencies as they continue the search. We pray for strength for the affected families. We pray for good news. Amen,' Samuel Anim Addo, spokesperson for the Gyan family, also noted in a statement issued on behalf of the footballer.
'The incident happened on July 6 but it was a wet Sunday afternoon and the weather was similar to what we are having today. Asamoah Gyan and all of us continue to pray and remain hopeful that the search team would get some good leads to make all of us happy,' Mr Anim Addo added.
Though there is no eyewitness account on the exact circumstances surrounding Castro's disappearance, he was last sighted on the Volta River cruising on a Jet Ski with a female friend, Janet Bandu, who was sitting behind him.
Speculations are that they may have fallen into the water and possibly drowned, though no evidence of that possibility has been given.
DSP Joseph Obenefo Darkwa, Head of Public Relations at the CID headquarters in Accra, speaking on the matter, said the search for Castro and Janet has not been the most difficult in the history of the Police Service.
He expressed optimism that the search would yield results and called on the public to help the search team with information regarding the whereabouts of the missing two.
The DSP told Starr FM the police had not given up, noting, 'Section 33 of the Evidence Act of 1975 stipulates that a person can only be declared legally dead after seven years by a court, where the person in question has not been seen or heard from despite diligent persistent efforts to reach him.'
Police Close One Eye
Almost a year after the Ghana Police administration held a press conference to confirm that Aqua Safari Resort, the company which hired the Jet Ski to Castro, gave him the wrong type of life jacket and charged him money for it, knowing it could not save his life if an accident occurred while on the water, not a single person has been punished for that recklessness.
According to the police, the company should have given Castro a 'Type A' life jacket which could have kept him floating, assuming he fell into the Lake; but they rather gave him a 'Type C' jacket meant for a cockpit and not for navigating the Volta Lake.
The 'Type A' life vest is designed in a manner to keep the wearer floating face up for a minimum of three days and has a buoyancy of over 22 pounds. It is specifically designed for extended survival in rough, open water where rescue may be slow in coming.
Indeed, a few hours after word reached the company that Castro may have fallen into the lake, they immediately dispatched a search team of two boats to go find him and the occupants of one of the boats, who were wearing the same 'Type C' life jackets, nearly drowned when their boat capsized.
The 'Type C' jacket could not keep them floating for even 30 seconds before they started sinking and had to be rescued by lifeguards.
It has also been established that though Aqua Safari Resort hired out the Jet Ski to Castro for 30 minutes, it took well over an hour before they were informed he had gone missing, raising doubts if the tracking device on the facility was in good shape.
No one got punished for that.
By Halifax Ansah-Addo