Rex Omar Returns With New Image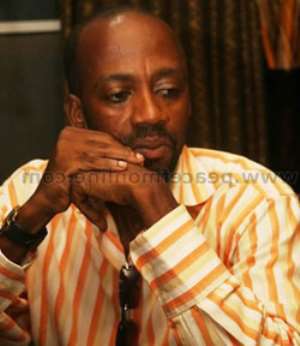 Legendary highlife and jazz musician, Rex Omar, has rebranded his style of play and music to rub shoulders with those on the international music scene again.
His new single comes with live instrumentation and produced by Osei, 'Paapa' is aimed at advising parents, especially fathers to take care of their children who will represent them in the near future.
Released a couple of days ago, the song has so far received very positive reviews from music enthusiasts around the world and music producers who have long been starved of good music.
He reiterated that musicians owe much of their success to the media because they help to propel their images and also promote their activities to the outside world.
Rex Omar, who has groomed himself to meet the professional standard of the international music market, last Friday organised a cocktail dinner for a section of the entertainment journalists at the La Palm Beach Hotel in Accra.
At the cocktail dinner, the music icon briefed journalists on his return to the music scene after 10 years break to study the trend of the industry.
The programme, organised by Bridges Communications, saw in attendance media personnel from the scope of radio, television, newspaper and online, who took turns to interact with him in trying to understand his vision for the industry.
During his speech, Rex Omar was full of praise and appreciation for the media for the exposure given him in all the years of his music career.
Rex plays a unique blend of Afro-pop and jazz music. His singing style portrays influences from the praise singers of Northern Ghana and Ashanti.
He first gained public recognition when he joined the Nakorex and after the group broke up, he established himself as a unique musician with his melodic inflections of jazz an Afro-pop.
His recording career has spanned 20 years with a number of hits to his credit. His 'Dangerous' album which has 'Abiba' as its hit song, has sold over 300,000 copies and is still attracting audiences beyond Ghana's borders.
Rex is the winner of several awards, including the Ghana Music Award – Best Contemporary Song of the Year 2004. He was also a Kora Awards nominee in 2004. He is notorious for his controversial lyrics and stance on issues concerning the Ghanaian music industry.
By George Clifford Owusu ([email protected]