DJ Mic Smith: The Shutdown King!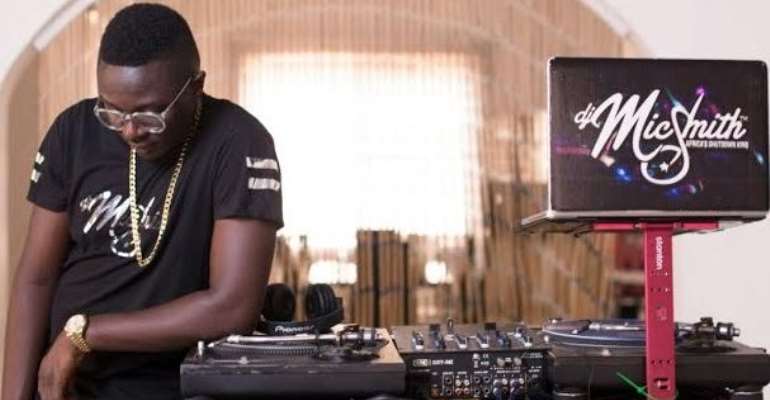 Mic Smith has cemented himself as one of the most bankable DJs in Ghana. As part of the YFM Hot Squad and the official DJ for E.L and the BBNZ crew, Mic is all that a DJ can be. The 'Mixing Machine' has been putting in work for a while now, and is relentless in showing the world that he is definitely one of the best and deserves all the success he is getting. He has come a long way from when he started out, and seems to be on a rapid rise. I caught up with him to find out more.
 How did you begin your career as a DJ?
Mic: I believe I was born into a boombox because I like music and it started from birth. I'm pretty sure I was humming to music the day I was born. My passion for all kinds of music is very strong. It's one of those situations when you feel you were born to do it. I don't see myself doing anything else.
What would you say are the best moments of your career so far?
Mic:  There have been a few. When you do what you love, there are bound to be many memorable moments.  One would be when my efforts and sacrifice towards my dream to be a DJ were recognised and appreciated by people I knew and those I did not know. It's always been a dream of mine and I had to work very hard to get to where I am. It took a lot of patience and sacrifice. Another would be when the public crowned me the 'Shutdown King' and the 'Leader of the New School'. They recognised my talent and hard work. The labels they have given to me are almost like being knighted by a king. I feel honoured and blessed that my fans hold me to such high esteem.
You play in the club, on radio and at live events. Which do you prefer?
Mic: Inwardly, I think I prefer the club because I've the liberty to play unclean songs and I as a DJ directly get to know the response of the audience unlike radio where you don't get immediate response. The club is a more intimate session and it's a bit more on a personal level. Seeing people enjoy themselves and dance to your mixes is quite a thrill. It's very fulfilling. It's pretty much what being a DJ is all about.
Do you think DJs get their due recognition in Ghana?
Mic: Not yet. There are some award schemes for DJs, but we're nowhere near giving them their due recognition. People don't understand how important a job DJs have. Ghana is country that loves music so much.  Without the DJ, who will play the music? Without a DJ, parties can't be called parties, radio stations would just be talk, and events wouldn't even be able to happen. The DJ is a big deal. It's time people came to realise that.
What do you love most about your job?
Mic: What I like about my job most is that, the life I live becomes someone's entertainment and that's how I can also fill a space in someone's life and the world in general. I know it sounds cliché, but it's very true. We impact people's lives even in a small way. Someone can be having a bad day, but as soon as they here a song I drop, or a mix I do, their whole day can turn around. That feels great.
What is your least favourite thing about it?
Mic: I hate it when some event organisers and people try to play smart over you after playing a gig. It's like they don't want to pay you for your work. Some make it look as if they are doing you a favour. It's very frustrating. Apart from feeling cheated, you feel like they are trying to show that they are smarter than you. It has happened to me a few times, but now I'm more aware.
What would you say are the qualities that make a good DJ?
Mic: He must be a good listener of music, he must know music, should always be prepared for an event, just like a soldier who can be called upon at anytime for an assignment even if it's not in his diary. You always need to be ready. You also need to be constantly learning and upgrading yourself. There is always new music coming out and new technology at your disposal. You need to be abreast with current trends as well.
Does it pay to be a DJ in Ghana?
Mic: It's gradually getting there because no one will like to work without getting paid.  You have to pay your dues before you can start getting paid well. (laughs) The bigger the platform, the more you get paid. Trust me, I have had to work for free many times before I got to where I am today. It's a process, and it's all about initial sacrifices. The entertainment industry in Ghana is still growing, and has a long way to go. DJs are at the centre of it, and we are slowly getting our due.
What advice would you give to upcoming DJs reading this?
Mic: Love music, play with music, and rehearse constantly even if you have no hope for an event. You need to stay on top of your game. There is a lot of competition out there. You need to be the best you can be. Don't take anything for granted. There are many sacrifices to make. It's not all fun and games. It's a real job. Be prepared to work long, odd hours.
A message to your fans?
Mic: Don't be disappointed when you find yourself failing. This is because it is an opportunity presented to you to put yourself through. Fear of failing will never propel you to where you want to be. Have patience and stay focused on your dreams. Keep your eyes on the prize. I had a dream of becoming a recognised DJ and it finally happened through hard work, dedication and sacrifice. These are not myths, but tools for success.