Samini Partners With Safe Water Network For Charity Concert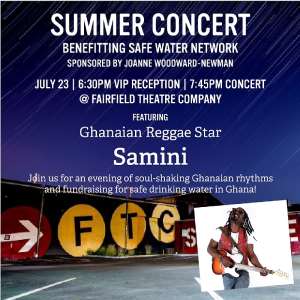 Samini partners with Safe Water Network for a concert to raise funds for a Water Project in the Northern part of Ghana.
Join Ghanaian reggae sensation, Samini, and Safe Water Network for an evening of soul-shaking Ghanaian rhythms and fundraising for safe drinking water in Ghana. One of Ghana's most popular musicians, Samini blends Ghanaian Highlife, Jamaican Dancehall, Afro-pop and American R&B for a unique 'African Dancehall' reggae style that won him MTV Africa's Artist of the Year in 2014.
Following sellout concerts across the US (including SXSW) and Europe, Samini and his dynamic musicians will bring down the house in a rare opportunity to see this versatile star in an intimate setting.
Bringing together the transformative power of music and life-changing access to safe water, this show benefits Safe Water Network, founded by Paul Newman to bring reliable and affordable drinking water to communities lacking this essential life need. Proceeds from this benefit concert will go to Safe Water Network's program to build Safe Water Stations in Ghana.
What is exciting about Safe Water Network's approach is that it is truly sustainable." – Kofi Annan, Former U.N. Secretary General, during a 2013 visit to a Safe Water Station in Ghana.
(Anthony Daning, Manager)