DJ Murphy Lee Joins Metro FM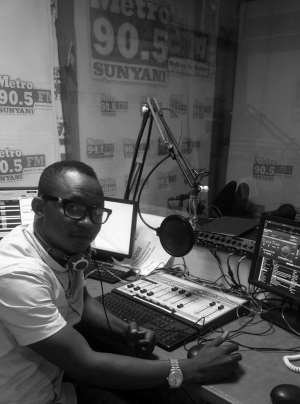 Entertainment segments on radio in the Brong Ahafo Region specifically Sunyani has improved drastically .Storm Fm, Parrot Fm are just to mention a few stations robbing shoulders with stations from Accra.
Management of popular radio station; Metro Fm, upon it's vision to add entertainment segment as one of the best programs on the station, have employed Nana Adjei - Boateng popularly known on radio as DJ Murphy Lee who shall never be forgotten when mentioning presenters who have helped make entertainment on radio appealing in the region.
Murphy, who only acquired his professional training in journalism at Mysteek College of Journalism in Accra where he was adjudged the overall best student Broadcast journalist in 2007; fed listeners of Storm fm with an authentic entertainment program dubbed 'STORM ENTERTAINMENT XTRA' every Saturday.
"I'm very happy with the management of storm fm for given me the platform to work with them for 2yrs .Now am at Metro fm. I promise to give my best & continue from where I left from storm fm. I have a vision of making CNN & BBC not my limit in my journalistic career..Hahahahah!!," he told this reporter.
He will be hosting the entertainment program with the name 'METRO ENTERTAINMENT XTRA' every Saturday starting from 27th of June ,2015 on Metro fm 90.5mhz .can also listen to him via www.metrofmonline.com