'My Fetish Priestess Role'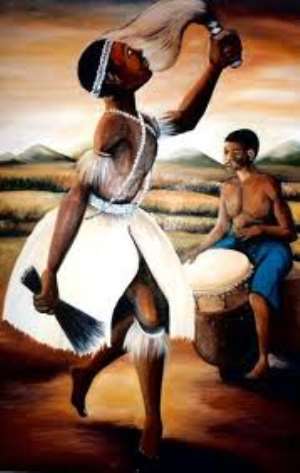 Actress Khareemah Aguiar has spoken about her role as fetish priestess in Yvonne Nelson's newly premiered movie, If Tomorrow Never Comes, saying she didn't have to go to a shrine to learn the role.
Khareemah made the comment in an exclusive interview with NEWS-ONE's Francis Addo on Monday. She spoke extensively about her role in the movie which was premiered on Friday, June 5 at the Silverbird Cinemas at West Hills Mall and Accra Mall. It is currently showing at both venues.
It was a comeback role for the stout actress and many movie fans were astounded by her performance as a native doctor. Some movie fans who saw the movie over the weekend said they got scared of her after watching the movie.
Have you heard people are sacred of you after watching you play fetish priestess?
You are just telling me now.
What kind of comments are you personally getting from people who watched?
Great comments… Of course, good comments that make me know I executed my role well.
For the benefit of those who are yet to see the movie, can you tell us about your role?
I played the role of a fetish priestess by name Yuli… She was really powerful at her time—a lady who had stayed on for some many years. But one fascinating feature about Yuli is, she never ages.
Khareemah in action
How different is the role from other roles you played in the past?
Extremely different, I will say. I have never played such a role.
When you were given the script for the role what flashed through your mind?
I mean at the point of taking the role, I realised I had very few scenes to play but I realised how mighty and powerful the scenes were and how significant it was; and I saw how important it is in the movie.
Did you visit any shrine to learn how fetish priestesses go about their activities to help you improvise?
Hahaha! How on earth will I visit a shrine? Which shrine though? I don't visit shrines for anything so this movie wouldn't have made me do such. But that notwithstanding, I discussed the role with my father who is 85 years old because of the spirituality of the movie and he had to fast and pray, which I also joined in doing, before I played the role finally.
With regard to how I nailed my role so well, I went back to archives of my old movie collections and saw some old movies that had shrines in them and picked one or two stuff from there but really that didn't help much. I must say at this point that I will give big thanks to the director, Pascal, who helped me a great deal in killing my role; so big thanks go to him for directing me well.
Did you learn from playing the role?
A lot…may not say but I definitely learnt something from that role; and all my life, I have been a fighter and a courageous person but I never for once saw myself coming into contact with a worm around my body, not to talk of snakes… two snakes at a time.
I have a serious phobia for snakes but If Tomorrow Never Comes has helped in killing my phobia for snakes. I am grateful.
Was there a moment on set when you were like, 'come on, I will give up'?
At a point yes; but nobody was going to do it except Khareemah Aguiar… That zest and courage, you can only find in Khareemah so I could not leave that role unattended to…
Was it your first time working with Director Pascal? And how was the experience?
It was my first and the experience was great.
What's your favourite scene in the movie?
My scenes were my favourites but the saddest was with little boy Kwaku. I didn't have direct scenes with him though.
Thanks for your time.
You welcome.
By Francis Addo (Twitter: @fdee50 Email: [email protected] )