Ghana Steals Show @ 2015 Berlin Street Carnival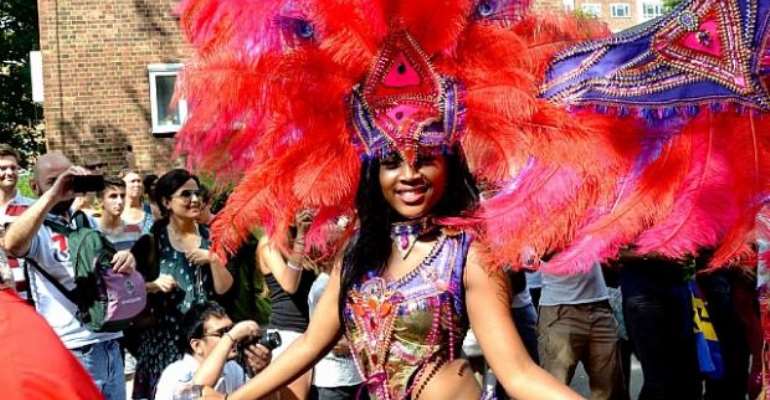 Every year Berlin celebrates its own street carnival called the 'Carnival of Cultures' which attracts visitors from various countries, including Ghana, to the German capital, to celebrate the multicultural spirit of that city.
Millions of people attended this year's 'Carnival of Cultures,' thus making the street festival an historic event. The carnival pays tribute to Berlin's ethnic diversity and the peaceful coexistence of its different cultures.
Beatwaves gathered that the colourful highlight of the festivities was a street parade, where more than 3,000 performers in authentic costumes, elaborately decorated floats, and musicians from different countries, including Ghana, danced through the streets of Berlin. Some German ladies were said to be doing the highlife and the Azonto dances; and they even danced better than some Ghanaians.
Ghana's participation at the event has built a linkage between her and some foreigners who have promised to visit the country to learn more about her culture and tradition.
Ghana, which has been a regular participant of the carnival, has won a number of competitions held by the organizers of the event. This year Ghana participated with a slogan, 'One Ghana,' with a staff of the Ghana Embassy in Berlin also participating in the celebration.
The organizer of the Ghanaian group in Germany, Fatimah Adamu Suka, who was part of the leadership of the Ghanaian delegation, told Beatwaves that during the carnival she urged Ghanaians leaving in Europe to come together as one people and should not allow politics to divide them.
Fatimah Adamu disclosed that Ghana in the previous year won a trophy with the Azonto dance which attracted a large number of the participants who were ready to learn the dance, adding that Ghana recognizes the Berlin street festival as one of the diverse cultural products which could help to market the country as a fast emerging preferred tourism destination in Africa.
Beatwaves learnt that during the festival the Ghanaian delegation showcased the country and her cultural heritage.
By George Clifford Owusu