Newly Designed Sets of Outfits & Products To Be Exhibited At Accra Polytechnic Fashion Show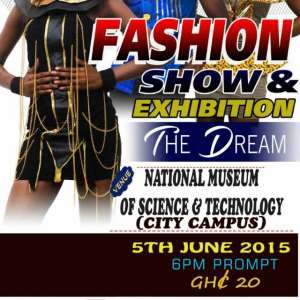 Themed "The Dream" with Ghana National Museum for Science & Technology as event venue, tertiary institution – Accra Polytechnic is set to have students showcase an enormous and extra ordinary range of products at its fashion show for the year 2015.
The fashion show event with rate 20 Ghana Cedis has been scheduled for Friday, June 5, 2015 at exactly 6 o'clock in the evening and expectations are exceedingly on a high pedestal since it is going to serve as an avenue for students in the fashion field to display whatever outfits and products they have under their sleeves and in the process will attract a large number of audience; partly students, workers and other persons who may not show up only to have a wide range view of these outfits but also purchase them.
For years, this event has not only created an avenue for fashion students to have their works exhibited but also has served as a grounds where students are able to witness and evaluate their skills and abilities as to how well they have learnt and understood the ins and outs, techniques and rules fashion has got and their success in being able to apply them to create a superb and finely finished product or outfit.
As one can attest to the fact that music is life and no event can soar any better without it, apart from the exhibition will also be musical performances from different artistes as well as a runway.
We have always wanted Ghana to be a self producing country like other foreign countries are and if we still hope for that great transformation that time surely commences at "The Dream" fashion show by Accra Polytechnic at the Ghana National Museum for Science & Technology.
Doing the double by showing up and purchasing an outfit or product will motivate these students to go all out and make more of these things. Patronizing this fashion show is a direct way of telling these students you appreciate their work and you truly want to see a country that produces its products when it comes to fashion.
By: Manuel King (@manuelking_live)