Ambolley Ready To Launch New Album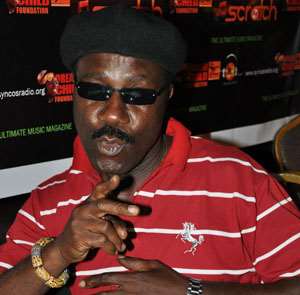 Ace musician Gyedu-Blay Ambolley will on Friday, May 29, 2014 launch 'African Soul', his latest album which explores the spiritual and feminine aspects of his life with a mega concert at the at the Alliance Française in Accra.
Known as the father of rap in Ghana, this versatile singer, songwriter, producer and saxophone player would be accompanied by the Sekondi Band who would take the crowd to a journey through the new opus 'African Soul'.
Ambolley has toured throughout West Africa, Europe, Canada and the United States. He has performed on the same stage with some of the world's most celebrated artistes such as Miriam Makeba of South Africa, the late Fela Anikulapo-Kuti of Nigeria.
Others are the late George Howard, Angela Bofill, Norman Connors, Manu DeBango, Lakeside, Chikuzan Takahashi of Japan, Ricardo Estrada of Cuba, Mayuto Correa of Brazil and toured Ghana with Oscar Brashear and Michael Session. Because of his originality, his performances have left audiences raving and shouting for more.
Ambolley has 17 albums to his credit and has received numerous musical awards. It has been said that the genre on Ambolley's music is entertainingly elevating and spiritually inescapable.
Institut Français (Ghana) and Alliance Française (Accra) are supporting the album launch.