Joselyn Dumas Turns 'Kayayo' In Silver Rain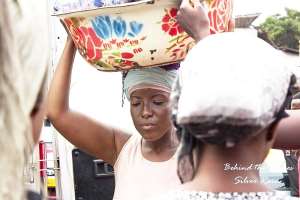 For those many African movie fans who think Ghana's Award winning Actress, Joselyn Dumas, is only into playing rich high class roles accompanied by romance, wait till you see Silver Rain, a melodrama epic where she plays typically poor head-porter (Kayayo) on the streets. This is a must see movie by all standards!!
In this gripping love story, Joselyn plays Adjoa, a Kayayoo Street Girl from Accra who meets Bruce, the rich heir of the Timothy fortunes; their friendship sets into motion a class war as Adjoa struggles to cross the class divide of life in the streets and finding love, and Bruce struggles to find himself, independent of his father.
It is a story about love and class war. Class struggle can only have one winner.
Together, they must brave the turbulent political times, as well as social obstacles that build. Will they change society or will it change them? Can their friendship and love endure? This is the story of the strength of the human spirit and when there is no place else to go but up!
Silver Rain premieres on the 13th of March at the Accra Mall and on the 14th of March at the West Hills Mall.
The Executive Premiere would also be hosted by Sir Sam Jonah and Mr. Kwesi Amoafo-Yeboah on the 27th of February.
The movie is starring Joselyn Dumas, Belinda Baidoo, Kofi Buckner, Ofie Kodjo, Elikem Kumordzi all from Ghana; Enyinna Nwigwe from Nigeria, Uru Eke also from Nigeria, Michael Bassey from Sierra-Leone, Annabel Mbaru from Kenya, Chumani Pan from South Africa.
Silver Rain is Written and Directed by Juliet Yaa Asantewaa Asante. Juliet holds an MPA from the Harvard Kennedy School and is a graduate of NAFTI and the New York Film Academy. She is also a regular writer for the Huffington Post and a Mentor on Entrepreneurship at the Massachusetts Institute of Technology (MIT).
Adiza Yemohley Yemoh is the Producer of Silver Rain. She has a rich experience of over 15-years locally and internationally.
Silver Rain has been described as the pan-African film of the decade. The casting was done from Ghana to Nigeria, South Africa, Kenya and Sierra Leone.