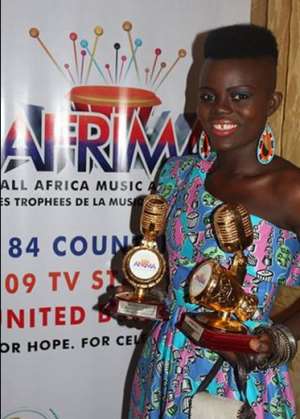 Wiyaala
One of Ghana's upcoming artistes, Wiyaala, won two awards at the maiden edition of the All Africa Music Awards (AFRIMA) held at the Grand Oriental Ballroom, Victoria Island, Lagos, Nigeria last Saturday.
Wiyaala won two of the coveted 23.9-carat gold-plated trophies for The Most Promising Artiste in Africa and The Revelation of the African Continent.
The ceremony which celebrates musical talent across the African continent was broadcast live on 109 TV stations and attended by a host of international African music celebrities including Davido, Nigeria, 2face Ibidia Nigeria, DJ Arafat from La Côte D'Ivoire, Mi Casa from South Africa, Ahmed Soultan from Morocco, Laurette La Perle from Democratic Republic of Congo and a host of others.
The multi-cultural event included themes from the rich Egyptian heritage of the Pharaoh era to the earthy depth of the artistically intricate Benin Kingdom and the fierce power of the Zulu Kingdom was set alight with fierce live performances from Wiyaala and Davido amongst others.
The Upper West songstress has bounced back in style and ended the year with a string of awards and citations including Face of Pepsi Ghana, Converse All Stars Brand Ambassador for Ghana, the Youth Achievers Award of the Upper West, Female Personality of the Year at the Sissala Prestige Awards, Music Ambassador for the Upper West and for being the Indomie Kid's Music Icon of the year besides Saturday's Afrima Pan-African accolades.
In a short speech, Wiyaala said that she hoped that her success would serve as an example to her community in the Upper West that there was a future for young women beyond an early forced marriage which can lead to independence and self-fulfillment.