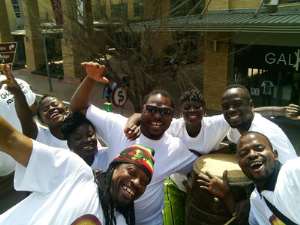 The Amamere Folk Music & Dance Ensemble, a Pan-African dance company based in Accra, has been invited to represent the Greater Accra Region at this year's edition of the National Festival of Arts & Culture (NAFAC).
The 2014 edition of NAFAC opens in the Brong Ahafo regional capital, Sunyani, this Saturday and would run till Thursday, December 11.
The event, which is under the theme: 'The Creative Industry and Tourism: A Platform For National Development', and being held under the auspices of the Ministry of Tourism, Culture and Creative Arts, (MTCCA), is expected to be a showcase of the best in Ghanaian culture.
The members of the group have promised to set the event ablaze with dances that would reveal the variety, dignity and gracefulness of traditional African dance.
The group a couple of weeks ago showcased Ghanaian indigenous cultural heritage in South Africa as the special guest of Ghana Embassy in Pretoria, where they displayed all the 10 regional cultural dances to the South African audiences as well as other guest and dignitaries present.
Amamere group, led by Badu Evans, an experienced drummer and vocalist, and Quaye Lawrence, dancer and choreographer, have participated in so many international festivals including some in Italy, Germany, United Kingdom, USA, South Africa, among others.
The group has embarked on an educational and performance training programme for the youth and social development for the past nine years with great success.
Recently, Amamere Folk Music & Dance Ensemble landed a contract with East London Music School to teach Ghanaian cultural heritage including dancing and drumming. It has also held a drumming and dancing workshop at Morgan Bay to an absolute British crowd that came for a wedding throughout the weekend.
Amamere Folk Music & Dance Ensemble would be making the Greater Accra Region proud, and the leaders have promised a well packaged cultural fiesta in this year's event.
By George Clifford Owusu ( [email protected] )