Ghanaian Prince Hilton Paints Van Damme In Kenya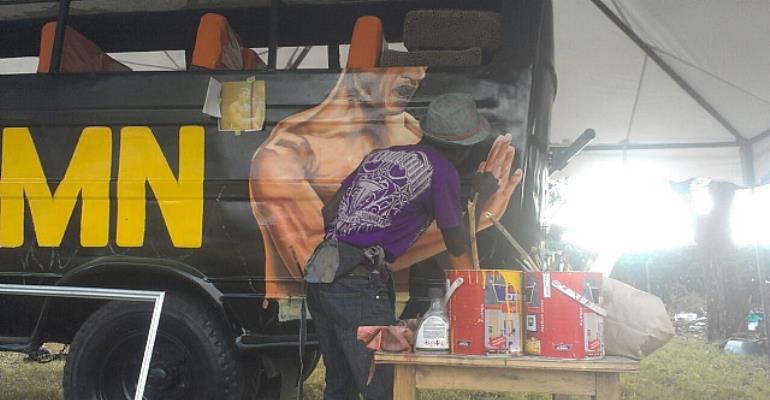 National Film and television Institute(NAFTI) graduate, Prince Kojo Hilton, one of the adroit and artistic gems in Ghana's creative art industry , has added to his prehensile repertoire- working as a scenic Artist with Hollywood Director of 'The Matrix' In Kenya.
Prince Kojo Hilton who is better known for constructing the walk way used for the state burial of Ghana's late president ,John Evans Fiifi Ata Mills, speaking to Razz Newspaper on phone , expressed his joy at his new challenge and thanked this reporter who once wrote a story on him and gave it the headline, 'Hollywood's Most Wanted'.
'I recall that story you did and titled it 'Prince Hilton Hollywood's Most wanted'. it's as though you saw this coming.
Prince who was drunk with joy, confessed. Narrating how he got this rare opportunity , he said 'three months ago, a company by name ginger link came to Ghana to shoot an advert for Smirnoff'.
'They needed someone to assist the director so one of the crew, a Ghanaian by name Nana, brother of music producer Panji Anorf, who was in the art Department, recommended me, Nana called me, I met the director, showed him some of my works and he was blown away, they contacted me to work on the set as Assistant to the Art Director.
'Later , I had a call from the same production crew asking me to do a 3D for a yet to be shot Hollywood series using Jean-Claude, Van Damme as a car. I did and sent it to them. Out of the many works they gathered, Van Damme preferred mine so the team contacted me'.
Specifically , Prince Kojo Hilton is working on the set as a scenic Artist. 'I 'm on the project as a scenic Artist. I'm designing buses making -paintings of Jean-Claude Van Damme. can you imagine , in Kenyan they call buses Matatu (Laughed)- so I'm designing Matatu's with images of Van Damme.
'Again , the team learnt that there are no Zebra's in Kenya, yet the script requires a Zebra – so what I did was to use Special effect paintings to paint live donkeys to appear as Zebras.'
Asked when he will be coming to Ghana, Prince intimated 'I will return on 20th of this month. Thanks man'.
Sense 8 tells a story of eight strangers from different cultures and part of the world who share a violent psychic vision and suddenly find themselves telepathically connected .A mysterious and powerful man named Jonas tries to bring the eight together, while another stranger called Mr whispers attempts to assassinate them.
Sense 8 is a science fiction drama series created , co-written and co-directed by 'The Matrix' trilogy creators, Andy and Lana wachowski creator of 'Babtlon 5′ J. Michael straczynski, will executive produce and co-write the series – which will be streamed on Netflix in 2015.
Prince kojo Hilton is a special effects creator, graphic artist, story board illustrator, production designer , graphic designer , and a painter.He's a graduate of NAFTI-where he majored in art direction and production design .
Some of his wonderful repertoires include, creation of the Guinness Big Eruption concert's Volcanic effect, Artists featured at this year's 'Chale wote' street festival in James Town, second graffiti art winner of Hennessy futura, worked with the Technical Department of the National Theatre of Ghana, amongst others.
He's also a member of the Nima Muhinmanchi Art collective (NM), the German -born Bethmann in Accra.
His works have been shown in places such as Germany, South- Africa, Bulgaria and Senegal.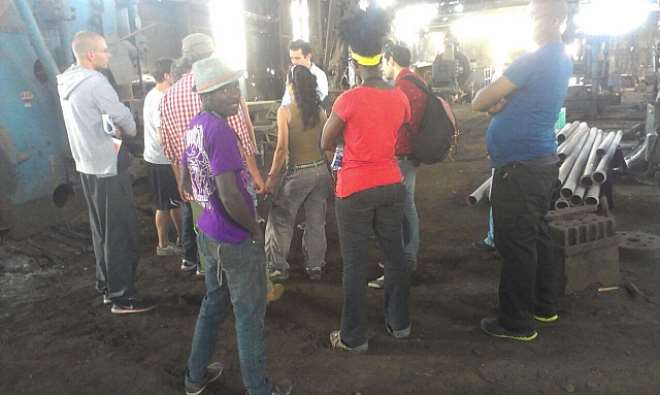 PRINCE 3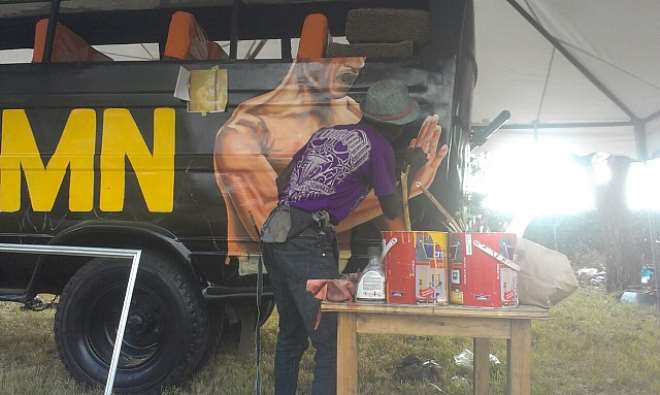 [1]PRINCE