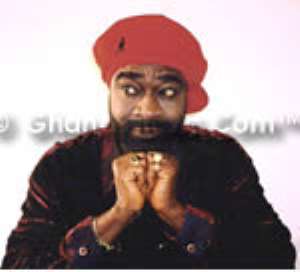 Pat Thomas was once crowned the Golden Voice of Africa and it seems there has been no turning back for the highlife star.
Nana Kwabena Amoh Mensah better known as Pat Thomas in the highlife circles finished his elementary school in the late 60s. His parents Joseph Amoh and Susanne Tabuah wanted him to continue his schooling but he also wanted to follow his childhood dreams of being a musician.
Ghana Music.com: Can you please tell us where why you were madly in love with music.
Pat Thomas: I was so much in love with music that, I couldn't continue my education, which my parents were a mad at me. Meanwhile they forgot that they were all musicians. My father was a music teacher and my mum was a singing bandleader.
After secondary school, he went to stay with his uncle by the name Uncle Onyina who was also a musician to learn more about music. "My uncle had a lot of musical equipments so I learnt how to play the guitar and drums. I listened to LPs of Nat King Cole, Miriam, Makeba, Ray Charles, and Ella Fitzgerald", Pat Thomas said.
Ghana Music.com: Did you face any hardships in your early stages?
Pat Thomas: I faced no hardships because my Uncle who I stayed with helped me a lot. I did many voice exercises.
After living in Takoradi for five years, he later came down to Accra to join a band called 'Blue Monks' that was led by Ebo Taylor. They were resident band of Tiptop Nite Club. One night at the Tiptoe Nite Club, a white lady approached him that he wanted to make a band. The white woman chose Pat Thomas and the trumpeter of Blue Monks to form a band called 'The Satellites', which played shows in Ivory Coast.
At the time he came back to Ghana, General Kutu Acheampong wanted to form a band so he formed his own band called 'Sweet Beans' in 1972, which toured the whole nation for state functions under Kutu Acheampong's reign. Sweet Beans comprised of three Rastafarians and himself. They had songs like 'Stay there', 'Sweet baby' and 'Let's think it over'. The band was disbanded and he left for Germany in 1977 and back in the late 80s.
Before leaving for Germany, he formed a band called 'Anabos', which played in big cities like Toronto, Hamburg, Düsseldorf, Abuja, Frankfurt, and Berlin in 1978 and 1979 because he was trying to go international with his English songs.
In 1975, the Arts Centre crowned him ''Golden Voice of Africa'. He also won ECRAG album of the year in 1997 with the album "Sika Ye Mogya". Some album titles that Pat Thomas has under his sleeves are 'Sika Ye Mogya', 'Medo Waise', 'Yesu Se Bra', 'False Lover', 'Marijata', and 'Stay there'. Pat Thomas is also a member of COSGA and MUSIGA.
Ghana Music.com: What do you think of highlife fused with hip-hop, which has given birth to hiplife?
Pat Thomas: Highlife is still living. Once hiplife songs are not profane, it is a good movement. I hope to bring live band music back.
Ghana Music.com: How did you collaborate with Daddy Lumba on his current latest album?
Pat Thomas: I happened to meet Daddy Lumba at Kwahu and we played a show together. He again talked to me about having me on his album at his studio in Germany. The song is good and fine with me.
His ending words were to all to musicians to respect their elder musicians and learn hard because respect is what has placed him where he is now. He says thanks to his wife, Mama and all his fans.
Pat Thomas can be identified with songs like 'Medo Wiase' (1991), 'Megyedzi So' (1993), 'Gye Nyame Dzi' (1996), 'Sika Nantee' (1999) and 'Anoma' (2000) and can currently boast of 10 – 15 albums to his credit.
By Nii Atakora Mensah, Ghana Music.com