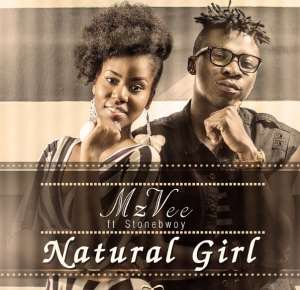 Trending singing sensation, MzVee has finally released her highly anticipated collaboration with dancehall maestro Stonebwoy.
The song, titled Natural Girl has a dancehall/afro-pop feel to it and talks about the need for girls to stay true to who they are. Both MzVee and Stonebwoy bring their 'A' game on this track and the vocals, lyrics and melodies are on-point and extremely catchy.
The video for the song is already being shot and if the pictures released from the making are anything to go by then MzVee is definitely on her way to blowing up even further.
The bubbly singer has received rave reviews following the release of Borkor Borkor, her single with Zeal of VIP and she has been touted as one of the fastest rising stars in recent memory.
MzVee's hard work was acknowledged with her being included in the 'Unsung' voting category for the 2014 Ghana Music Awards where fans get to vote for a popular newbie to perform at the main event.
Download link:
http://www.hulkshare.com/pk4jfexay70g