October 5, 2013
|
General News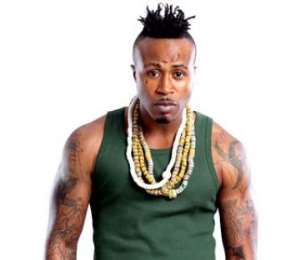 It started as a rumour but it is now confirmed that Emmanuel Promzy Ababio, aka Promzy, is no longer a member of VIP.
Promzy was part of the exciting trio for over two decades. According to group's manager, Lawrence Nana Asiama Hanson better known as Bull Dog, there was a mutual agreement between the three friends that Promzy could go and pursue his personal projects.
The rumour about Promzy's exit from the group started circulating when the cover of a new single by the group carried a photo of Zeal, Prodigal and Terry G from Nigeria.
Talking to Showbiz last Monday, Bull Dog said Promzy had requested to be left alone on several occasions and it seemed the best thing in everybody's interest was to let him go.
'Promzy didn't just wake up one day and decided he wanted to leave the group. He took the decision long ago so we had to let him go after a series of meetings,' Bull Dog said.
'What everyone needs to understand that is that, the group is bigger than one personality. VIP started with five persons and dwindled to three. One more member leaving will not stop the group from giving music lovers the best they have,' Bull Dog remarked.
Asked whether Promzy there was a possibility of Promzy returning to the fold after a while, Bull Dog said he could not tell.
'Promzy best knows why he decided to leave the group. I can't tell if there is more to what he told us but for now, what he said was he wanted to embark on a solo project which he felt would be useful to him,' Bull Dog added.
He also cleared rumours that Terry G who was featured on VIP's latest single, Kokoko, is a new addition to the group.
According to him, Terry G from Nigeria was only featured on the song and that VIP is now made up of only Prodigal and Zeal.
VIP originally started as five Nima-based friends. They were Bone, Friction, Zeal (formerly Lazzy), Promzy and Prodigal.
It was reduced to the trio of Promzy, Zeal and Prodigal at a point and they turned hiplife around with their energetic party vibe. The trio successfully blended influences from highlife, hiphop, R n B and traditional African sources to create something uniquely theirs.
VIP's hits from nine albums over the years include Daben Na Odo Beba, Bibi Baa O, Ahomka Womu, Fellow Me, Away, Obaa Sweetie, Besen, Sisi Na Adee Wom, My Love, Mane Nko and I Think I Like Am.
In 2004 VIP achieved the rare feat of winning five awards at the Ghana Music Awards. They became the first act to win the Artistes of The Year award twice by picking it up again in 2011.
The group collaborated with several international acts. Songs from those partnershipns included My Love with 2 Face Idibia and Two Women with Tony Tetula. The group also worked with the Swatta Camp (South Africa), Awadi (Senegal ) and Juliet Endee (Liberia).
By Kofi Duah/Graphic Showbiz/Ghana