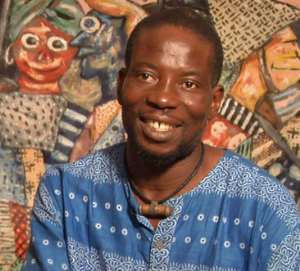 SHOWCASE and Bureau Africa have now released the film interview with Kwadwo Ani on THIS IS AFRICA, the 6th interview in their series of film interviews with prominent Ghanaian contemporary visual artists under the title "The Black Stars of Ghana - Art District". The interview with Kwadwo Ani followed on the previous episodes about Wiz Kudowor, Ablade Glover, Gabriel Eklou, Kobina Nyarko and Marigold Akufo-Addo. The interview series which is currently internationally launched uses the internet to introduce the representatives of contemporary Ghanaian art to a global audience. For both art lovers and art experts it provides a fast and concise insight into today's contemporary Ghanaian art scene.
Kwadwo Ani was born in 1966 and comes from Mamfe Akuapim in the Eastern region of Ghana. Already as a young boy he was developing his artistic talent with drawings that caught his mother's attention. While his father insisted on him working in his father's bus as a driver's mate, Kwadwo Ani's mother was supporting him in pursuing an education as an artist. Kwadwo Ani later graduated at Ghanatta College of Art with a Diploma in Painting and continued to study at Ankle College of Art where he received a Diploma in Practical Painting.
Kwadwo Ani's painting style borrows from the toys of his childhood. He paints his figures with open mouths and big open eyes like kids observing the world around them with wonder.
Kwadwo Ani illustrates situations of urban and street life or social interaction addressing everyday issues of life in an African society like injustice and greed, violence and strife, but also friendship and charity, social inequalities and political corruption. His unique painting style that is reminiscent of naive art puts problems of contemporary society into a challenging contrast with the childlike protagonists of his artworks.
The morality that Kwadwo Ani expresses in his paintings does not accuse the viewer thanks to the mostly humorous way in which human interaction and behaviour is depicted. This is true even if the audience feels rightfully addressed by the message that the painting epitomizes and illustrates. The serious subtext that Kwadwo Ani wants to bring across, that everybody should think about his own demeanour and potential wrongdoing, is always accompanied by a sly smile on the face of his paintings.
All episodes of "The Black Stars of Ghana - Art District" will simultaneously be broadcast on This Is Africa and on Bureau Africa TV's Youtube Channel: http://bit.ly/18tBnhm
KWADWO ANI - This Is Africa: http://bit.ly/15OOsUn
KWADWO ANI's Facebook album: http://on.fb.me/1h1LXQ9
SHOWCASE's facebook page: http://on.fb.me/19WevwC
More about the project "THE BLACK STARS OF GHANA - Art District": http://bit.ly/16ejiHb
6th Episode / interview Kwadwo Ani: