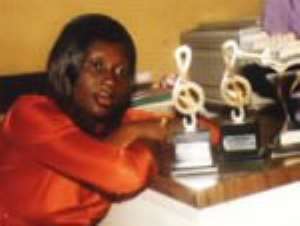 The contest as to who gets what at the highly publicized Ghana Music Awards (GMA) 2005, is getting keener and keener as formidable contestants have been nominated in the various categories.
While nominations for other categories including Most Popular Song, Album of the Year, Artiste of the Year among others have sometimes more than one contestant in serious contention; the fight at the Gospel Album of this year is a straight one for Esther Smith's album entitled, 'Nipa'. Of all the nominees, three contestants stand out.
They include Esther Smith, Ama Boahemaa and Philipa Baafi, however as indicated above, Esther stands tall among them all.
This is because all the tracks on that album are excellent and is played equally everywhere; on air, social gathering and what have you.
But, the same cannot be said about the other two albums. In case of Ama Boahemaa, she had all the songs on side A; very good stuff, but the side B is different. Philipa Baafi on her part, even though had a wonderful track in the track, 'Yesu Ye Me Last Stop', other tracks on the album are not too strong to compete with the likes of the hit track.
This makes that album a bit below the class of the two above, even though the album made impressive performance on the music market.
In terms of sales, Esther Smith's 'Nipa' till date cannot be compared to any album released within the 2004 period, which is under review, be it gospel, hiplife etc.
Another reason that makes the 'Nipa' album stronger than the rest is the fact that for 38 continuous weeks, the album occupied the topmost position of the Channel R Gospel Music Chart, a record no other Ghanaian album has equaled.
Source: Chronicle On Saturday