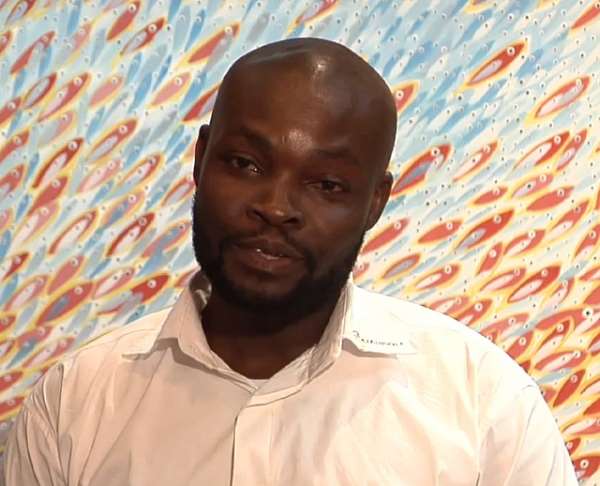 KOBINA NYARKO
SHOWCASE and Bureau Africa have now released the film interview with Kobina Nyarko on THIS IS AFRICA, the 4th interview in their series of film interviews with prominent Ghanaian contemporary visual artists under the title "The Black Stars of Ghana - Art District". The interview with Kobina Nyarko followed on the episodes about Wiz Kudowor, Ablade Glover and Gabriel Eklou. The interview series which is currently internationally launched uses the internet to introduce the representatives of contemporary Ghanaian art to a global audience. For both art lovers and art experts it provides a fast and concise insight into today's contemporary Ghanaian art scene.
Kobina Nyarko was born in 1972 in Sekondi-Takoradi which is Ghana's third biggest city and located in the Western region at the Atlantic Ocean. He went to school in Takoradi, Cape Coast and Accra and studied Industrial Art at the Kwame Nkrumah University of Science and Technology in Kumasi where he graduated in 2003.
Kobina Nyarko started to work solely as a professional painter soon after his graduation. Since then he has become well-known for his paintings depicting countless tiny fish on large-scale canvasses.
Kobina Nyarko organizes and composes these numerous colourful swirling shoals of fish in a way that they form compositions reminiscent of abstract expressionism. Kobina Nyarko explores the universal theme of fish in different directions depicting both the beauty and mysteriousness of nature and its endangerment through man-made influences like environmental pollution and technological progress. Kobina Nyarko's paintings capture the masses and the movements of fish shoals and depict them in different colours and shapes swimming through an oceanic background. Kobina Nyarko paints on canvasses and cardboards and uses oil and acrylic. He works with palette knives and brushes and has originally created his most intense artworks in blue and silvery colours, gradually adding also red and green elements to his range of colours.
Kobina Nyarko belongs to a third generation of post-independence Ghanaian artists who freely select their themes of artistic expression without adhering to traditional concepts of what Ghanaian art or African art in general has to look like. He believes in working on global issues which affect people everywhere in the world instead of limiting the subjects of his artworks to what can only be seen on the African continent. Fish are everywhere and so his paintings address issues which are of global relevance. The ocean connects the people worldwide. What happens anywhere in the word affects the shores of the African continent and what happens in Africa can happen at any coast all over the globe.
All episodes of "The Black Stars of Ghana - Art District" will simultaneously be broadcast on This Is Africa and on Bureau Africa TV's Youtube Channel: http://bit.ly/18tBnhm
KOBINA NYARKO Facebook album: http://on.fb.me/17lW8N7
SHOWCASE facebook page: http://on.fb.me/19WevwC
More about the project "THE BLACK STARS OF GHANA - Art District": http://bit.ly/16ejiHb
4th Episode / interview KOBINA NYARKO: