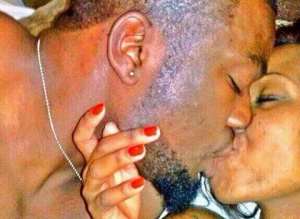 There are rumours that evicted Zimbabwean housemate Hakeem and Kenyan representative in this year's Big Brother Africa (The Chase) reality show Huddah might have had sex before the show's finale Sunday night.
Hakeem, who was in a heated relationship with Zambian Cleo before his eviction from the show is alleged to have betrayed his love for the Zambian rapper after he had openly proposed to her while in the house.
Cleo, who survived in the reality show to the final day, Sunday, had also professed and maintained her love for the well built Zimbabwean model and the emergence of a love fling between him and Huddah has stunned followers of show.
Reports reaching Myjoyonline.com indicate that all evicted housemates – including Hakeem and Huddah – reported to the Hilton Hotel in Sandton in Johannesburg ahead of the finale, Sunday.
Sources at the hotel told Myjoyonline.com that the two got very touchy and intimate during a 'party' at the hotel.
A picture of the two kissing passionately has added currency to rumours that the two got sexually intimate after the party. Reports have it that Huddah might have leaked the photo.
On the eviction stage Sunday night, Hakeem still maintained his love for Cleo, who was clearly oblivious of what might have transpired between her man and Huddah. Huddah just looked on smiling as the Zimbabwean maintained his love for the Zambian, who emerged first runner up in the reality show.
It is still unclear what Cleo's reaction to the alleged fling between Hakeem and Huddah will be.
News making rounds on twitter, however, indicate that Hakeem and Huddah might be dating all though that can't be confirmed.
Huddah on the other hand is known to have, or still has, a relationship with Kenyan rapper and Big Brother Africa (StarGame) representative Prezzo.
Story by South Africa | Myjoyonline.com | Ernest Dela Aglanu (Twitter: @delaXdela / Instagram: citizendela)