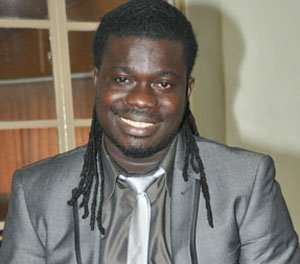 Patience they say moves mountains, but erstwhile Central Regional chairman of the Musicians Union of Ghana (MUSIGA) George William Dickson surely does not buy into this adage full of wisdom.
Readers will recall that a few months back Mr. Dickson launched a scattering of attacks on the President of MUSIGA, Bice Osei-Kuffour known in showbiz circles as Obour.
These attacks which, according to Obour, were carefully calculated lies and propaganda laced with hatred, were well coordinated and thrown into the public domain with the sole aim of tarnishing his hard-earned reputation as president of MUSIGA.
These revelations came to light when BEATWAVES called on Obour to speak on reports making the rounds in the media that a new group had emerged with the former Central regional chairman as president.
Obour said MUSIGA is an association and as such has a membership who out of their free will saw wisdom in joining.
He quizzed, 'In this era of unprecedented civilization and democratic governance permeating every aspect of human life and where autocratic and dictatorial rules were being crashed, why would I, a strong believer in democratic governance, gag anybody from joining an association they want to join or be worried about an individual seeing a vision and dreaming of becoming a president of a group?'
According to him, he was happy that all members of the union had realised that the former Central regional chairman of the union resigned due to his personal agenda to form an association which he had succeeded.
 He declared that 'it hurts though when you avail yourself to offer service and what certain people do is to work very hard to pull you down in order not to succeed.'
'I already know that leadership could be very lonely sometimes and so I am really psyched up to deliver on my mandate until such a time that the good people of the union will have the opportunity to either re-elect me or reject me.
As a believer in democracy whichever way the people decide I will walk tall and proud that I had the opportunity to once lead our great organization, MUSIGA.
I have no doubt that my name will be written in gold for the bold initiatives I embarked on during my tenure and the modest achievements laying a solid foundation for others to continue,' he declared.
Obour stressed that he is happy Dickson is about forming a new association: 'We can only wish him well in his new endeavour. I hope he does not get people like himself and his cronies within this new association.'
The MUSIGA president noted he was grateful to all who have solidly rallied behind him and asked for their continuous support and prayers.
Obour indicated that he does not detest criticism but appreciates constructive and objective criticism which will positively impact on the union.
By George Clifford Owusu