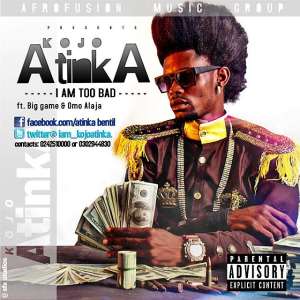 The "Sorkpor Welewa" fame, Atinka Bentil has shown his displeasure towards the music industry. He attributed his course to lack of sponsorship, financiers and promoters.
The industry lacks personnel or organisations that would bring up talents into the music circle. What everyone wants is, to associate him/herself with already groomed stars.
He also showed his disappointment for the VGMA. The whole programme was "fucked up" with no competition he said. Awards were given to people who did not deserve it. He cited the Manifest's award which should have gone for E.L He also never understood why the African Artiste of year went for a nigerian while the programme happened on a ghanaian soil. "The organizers are not appreciating the work of ghanaian artistes" he added.
Shatta Wale should not have retorted, since awards are bought "all the time" he stated.
He also lamented on the actions of media platforms especially radio stations. These bodies fail to promote tracks but would begin to play your tracks after making it circulate in your own hard way.
The Ghana music industry is just a toothless bulldog who cannot bite these culprits. Unlike the burkinabe's, whose music industry has power to close down radio stations when their copyright laws are broken.
Despite that, Atinka Bentil has revealed that, he does his tracks not for didactic reasons but just to have people dance. His mixes include "Sorkpor Welewa", "Ogbee da" and "Okw3 nsor" of which he tags them "explicit", due to its sexual or adult materials.
He has also recorded some tracks including "Boosu", "Sexy Woman" and other more. He also having tracks featuring E.L, Face(naija), Eze and Adangba.
He's now under his nigerian manager Eze, and would be realising eight powerful videos all this year.
Merci Beaucoup.
FELIX ACQUAYE.