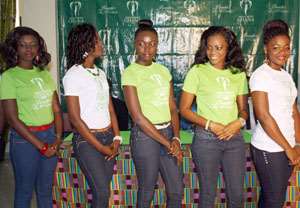 This year's edition of the Miss Earth beauty pageant has been launched in Accra under the theme 'The Year of Water Corporation'.
The 16 beautiful contestants were officially introduced at a press launch held at the Wildlife Society office in Accra.
The well-organized launch attracted representatives from the Ministry of Lands and Natural Resources and Forestry Commission as well as other stakeholders.
All 16 contestants, according to the organizers of the event, will embark on Tree planting, Environmental Education, Beach Resource/Sanitation management activities, Eco fashion shows and themed photo shoots in the Greater Accra, Ashanti, Northern and Central regions, after which it will be packaged for television.
The winner of this year's Miss Earth Beauty Pageant will get a cash award of GH¢5,000, another GH¢5,000 worth of sponsors' goods and products, an official car, official wardrobe and she will represent the country at the Miss Earth International.
The first runner-up will get a cash prize and products worth GH¢3,000, a home theatre set to be given at the point of winning, an official wardrobe and participation in an international event.
The 2nd and 3rd runners-up will get GH¢1,500 and GH¢1,000 respectively among other consolation prizes.