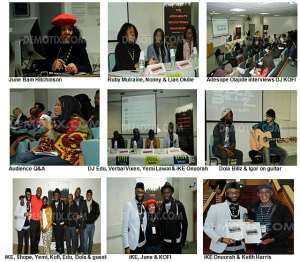 Saturday 23.03.13 was another landmark date in the history of the AFRO-BEATS
EDUCATIONAL ROADSHOW! The theme 'Product Placement and Penetrating Markets' saw
the event kick off with keynote speaker June Bam-Hutchison – (Africa-UK) who's paper on
'Establishing International Relations in Africa in Arts, Culture, Heritage and Higher Education'
introduced investment and potential synergy opportunities between the UK and African
countries. Her report outlined key thought patterns that needed to be considered before
engaging with potential investors and Governments.
This was followed by Keith Harris – Phonographic Performance Limited (PPL) and Graham Jackson – The British Academy of Songwriters, Composers and Authors (BASCA) who gave an insight to two of the UK's leading music governing bodies history and operating procedures outlining the benefits along with some of the challenges these organisations face in an ever changing creative business environment.
The ROADSHOW experienced its first all-star female lineup, with Ruby Mulraine – BBC Radio 1Xtra, Nonny – MTV Wrap Up's Afro-Beats and Lian Okolie – VOX Africa TV who's topic 'Breaking Afro-Beats Music into the Mainstream – Tastemakers and the Gate Keepers' was of major interest to a number of attendees in the congregation. Knowing when to present music, how to package it along with why certain tracks get selected over others were key areas of the session that resonated with the audience.
The ROADSHOW took another twist and got intimate with a one-to-one interview with International super-star DJ KOFI who's CV includes Sony Music to do a mix for the late Michael Jackson's 'Invincible' European album launch, Coldplay's 'End of World Tour Party' at Wembley Arena, Jay Z's after party, plus the World Economic Forum attended by Tony Blair and Bill Gates to name a few… He discussed 'Building A Global Brand from Concept to Realisation'. The key outcomes for this session were centered on building an internal focused vision, outlining the paths to achieve, calculated execution, reflection and adjustments!
The African Music Coalition UK, which comprised of DJ Edu – BBC Radio 1Xtra, Nonny –
MTV The Wrap Up Afro-Beats Yemi Alade-Lawal – Afro-Pop Live/ Wahala/ VOX Africa and
iKE Onuorah – Strictly Entertainment Music delivered the last session outlining 'The Way
Forward' for the UK based Afro-beats movement. The coalition put forward a document that
outlined their intensions to form a recognised body that represents the interests of UK
based African music professionals.
The Coalitions Aims and Remit Include:
• Represent UK based African music professionals in all its forms and affirms its presence and role in the UK and international music community.
• To encourage other African music communities in Diaspora to set up affiliated chapters with the view of establishing a much more sophisticated and recognised communication system that will benefit all key stakeholders solidifying the movement further.
• Supports and coordinates the requirements of the member associations in promoting and developing African music and African music professionals.
• Maintain old and foster new relations with African based music organisations and businesses interested in the development of Africa.
• Establish platforms that provide training and mentoring opportunities for the next generation of UK based African music professionals.
• To inform, prevent and sanction against the use of free music with out proper consent
from the copyright owners.
• To continue to work close with our community who are the primary supporters of our music. However to foster new relations with music organisations like the PRS (Performing Rights Society), PPL (Phonographic Performance LTD), BMI (Broadcast Music Inc), BASCA (British Academy of Songwriters, Composers and Authors), MPA (Music Publisher Association), MU (Musicians Union), AIM (Association of Independent Music) and UK MUSIC in gradually introducing new ways of monitising the use of African music content in the UK. (I) This in return will ensure the creators and owners of the copyright are compensated, (II) encourage more creators to register their music with collection societies, (III) ensure our DJ's are playing in more licensed venues increasing their demand, (IV) improve the volume of African music played on mainstream radio, (V) increase licensing and sync opportunities, (VI) better monetising and administration for African music, (VII) pull African music business inline with all recognised genres by the BPI (British Phonographic Industries) and IFPI (International Federation of Phonographic Industries) and finally, (VIII) increase the annual revenue generated for the UK music economy.
• To organise an annual event that brings together the UK African music community showcasing African music and African music businesses commencing in 2014.
iKE Onuorah of Strictly Entertainment Music and co-founder of the ROADSHOW delivered
a mini report summary courtesy of the organisers of 'Social Media Week Lagos' which took
place on the 18th – 22nd Feb 2013 in Lagos Nigeria. The report outlined some key statistics
demonstrating Lagos standing alongside other leading international cities during the event.
The ROADSHOW was hosted by the master of ceremonies himself, Adesope Olajide –
Presenter Factory78/ VOX Africa, who's every towering presence and command ensured
the steering of the ship was in safe hands.
The highlight of the evening was Dola Billz who performed for the first time an acoustic rendition of 2 of his songs off the newly released 'Rap Star EP' titled 'Roll With The Rapper' and 'I Need A Dollar'!!! His coarse vocals entwining Yoruba, Pidgin and UK Street lingo fused effortlessly with the acoustic guitar tailoring his sound perfectly for the retro LONDON SHOREDITCH MARKET…
"BASCA is committed to the inclusion and encouragement of Black, Asian and Minority Ethnic music creators within the UK music industry and was delighted to be involved in such a worthwhile event as The Afro-Beats Educational Roadshow".
Graham Jackson – Head of Membership (BASCA)
TAER'S Remit:
The road show's remit is to inform, empower, instigate dialogue, plus provide the enabling environment where entrepreneurial and business ideas can formulate, whilst stimulating synergies, as well as creating the surroundings where potential investment opportunities for all those interested in the development of the Nigerian, African and UK music industry can convene.
Venue:
University of Westminster
Lecture Theartre 1
Watford Road
Northwick Park HA1 3TP
Date: Saturday 23.03.2013
Time: 14:00 – 18:40
For all the information on TAER, topics, speaker profiles, past and future events, pictures and how to get involved, website: www.strictlyentertainmentgroup.com/tear/home.php