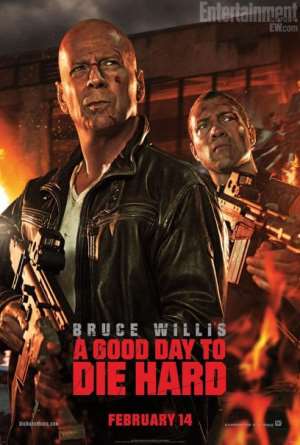 7th January, 2013: Silverbird Cinemas, in partnership with Tigo, will on February 15, premiere the fifth installment of the Die Hard film Series,written by Skip Woods anddirected by John Moore.
Starring Bruce Willis, The R-rated film franchise started in 1988 with the original "Die Hard". Fox created three more movies of the franchise, "Die Hard 2: Die Harder" (1990), "Die Hard with a Vengeance" (1995) and "Live Free or Die Hard in (2007) following its successive successes.
'A Good Day to Die Hard'seesJohn McClane (Bruce Willis) travelling to Russia to help out his seemingly wayward son, Jack, only to discover that Jack is a CIA operative working to prevent a nuclear-weapons heist, causing the father and son to team up against underworld forces.
With the Russian underworld in pursuit, and battling a countdown to war, the two McClanes discover that their opposing methods make them unstoppable heroes.
The 97 minute long movie, said to be released on 7th February in some parts of Asia, and on 14th February in America and Canada,has already gained huge popularity and great reviews among movie enthusiasts.
'This is our very first premiere in 2013, and we are confident it is one of many premieres we will be holding this year. We thank Tigo for sponsoring this premiere, as well as our other media partners who have made this possible", Mr. KwekuYankson, Marketing Manager for Silverbird said.