New Music! 'AYALOLO' by B.A.M AllStars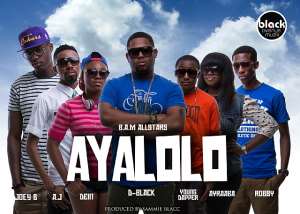 Black Avenue Muzik presents a fusion of the incredibly talented new breed of Ghanaian entertainers signed or affiliated to the B.A.M record label on one masterpiece of a song.
Taken off the upcoming B.A.M AllStars Compilation titled 'More VIM', AYALOLO produced by Sammie Blacc is a motivational yet club banger record that will stick in your head and have you moving right after your first listen.
Ayalolo features B.A.M's first in command, the multiple award winning 'VERA' hitmaker 'D-Black da Ghana Bwouy', undoubtedly one of Ghana's most lyrical m.c's 'Joey B', the new kid on the block , the 13 year old 'Young Dapper', one of the continent's finest femcee's 'Dein', the self proclaimed king of hooks, Nigerian Ghanaian resident 'A.j Omoalajah' and introduces you to two incredible crooners 'Ayraaba' and 'Robby'.
DOWNLOAD, TAKE A LISTEN & ENJOY
AYALOLO BY B.A.M ALLSTARS - D-BLACK, YOUNG DAPPER. JOEY B, DEIN, AYRAABA, A.J OMO ALAJAH, ROBBY
DOWNLOAD HERE : http://www.hulkshare.com/5ktknkszf7k0